The Emperor's Naked Army Marches On
(1987)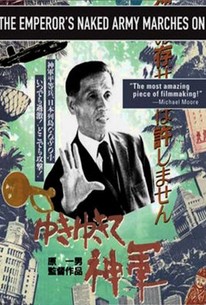 The Emperor's Naked Army Marches On Photos
Movie Info
The Emperor's Naked Army Marches On is a brilliant exploration of memory and war guilt, a subject often ignored in modern Japan. In this controversial documentary, Kazuo Hara follows Kenzo Okuzaki in his real-life struggle against Emperor Hirohito. He proudly declares that he shot BBs at the Royal Palace, distributed pornographic images of the Emperor, and once killed a man for the sake of his strange crusade. As the film progresses, Okuzaki reveals a gruesome mystery: why were some Japanese officers killing their own soldiers during WWII? What happened to their bodies? Okuzaki begs, cajoles, and occasionally beats the story out of elderly veterans. When these old men do break down and talk, their testimonies are some of the most chilling, riveting descriptions of wartime desperation ever committed to film. In his desire to unearth these horrors, Okuzaki's behavior grows increasingly extreme and bizarre. By the film's end, Hara seems to ask whether the terrible nature of this buried incident is worth the violence of Okuzaki's methods. ~ Jonathan Crow, Rovi
Critic Reviews for The Emperor's Naked Army Marches On
Audience Reviews for The Emperor's Naked Army Marches On
It's an angry movie, even with strong touches of dark humour, and you can't blame Okuzaki for being mad when everyone else acts like nothing ever happen. The man is clearly unstable, and you could even accuse the makers of this film of exploiting the whole thing. But his anger is honest, and the apathy of the people around him is both sad and frustrating. The constant contrast between the super polite Okuzaki, and his Mr Hyde persona makes the movie a sharp critique towards Japanese rituals of conduct, and how Japanese society has become so used to numb their senses than they can't even feel regular human emotions anymore. "Are you robots?" asks Okuzaki to a group of cops watching him. Maybe they do feel something, but they don't know how to express it anymore, and that's probably what pisses Okuzaki the most. The man wants a reaction from a country that has shut down said reactions from it's citizens a long time ago.
Tsubaki Sanjuro
Super Reviewer
It's easy to see why Errol Morris calls this one of his top five favorite films. There's so much here, both spoken and unspoken, that a film class could spend a whole term sorting it out. Absolutely riveting for those who like to draw their own conclusions, and probably boring as hell for those who merely wish to be entertained. I've never seen anything like this.
Taft Chatham
The subject of this documentary is a mental case who physically attacks old folks who he believes committed artocities in WW2. Hilarity ensues.
Easton Duboise
The Emperor's Naked Army Marches On Quotes
There are no approved quotes yet for this movie.
Discussion Forum
Discuss The Emperor's Naked Army Marches On on our Movie forum!