The Englishman Who Went up a Hill But Came Down A Mountain
(1995)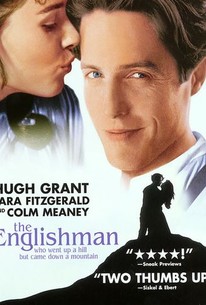 The Englishman Who Went up a Hill But Came Down A Mountain Photos
Movie Info
In this charmingly old-fashioned British comedy, the residents of a Welsh village endeavor to convince a stuffy British official that they do indeed live in the shadow of a mountain, not a hill. The trouble begins in 1917 when cartographer Reginald Anson is sent to Wales to make an official map of its terrain. He winds up in a tiny, anachronistic hamlet where the people do not have surnames, but are identified by their occupations or unusual characteristics. The humble townsfolk are hardworking and proud; especially of their mountain, Ffynnon Garw, which they claim is the first mountain in Wales. Unfortunately, the British government has officially decreed that only points that exceed 1,000 feet in elevation can be designated as mountains, and according to Anson's calculations, Ffynnon Garw, is only 984 feet; therefore, it is most definitely a hill. The villagers are outraged at this indignity, and do all they can, ranging from gentle coercion to outright threats to get the straight-arrow Anson to make it a mountain. In desperation, they all devise an ingenious solution and Ffynnon Garw's reputation of a mountain remains intact.
People Who Like this movie also like
Critic Reviews for The Englishman Who Went up a Hill But Came Down A Mountain
Audience Reviews for The Englishman Who Went up a Hill But Came Down A Mountain
Pretty good movie all things considered. It's somewhat on the light side with very little substance but it does offer a fun take on how this little Welsh community, that lives in a beautiful little village, resists the English's, this case being Anson and Garrad, attempt to take away their identity by saying that Wales' first mountain, at least that's what they claim, isn't really a mountain but a hill. It all sounds silly when you hear about it, but I do think there's some social commentary here with how England's cultural influence has, in many ways, negatively affected Wales' own cultural identity. So, in that regard, it's understandable that this village would hatch a plan in order to add 16 feet to the hill, as it came in at 984 feet when it had to be 1000 to be considered a mountain, to preserve their own sense of pride and to not allow the British to take one more thing away from them. Eventually, it comes to pass that the reason the they were to add 16 feet to the hill is to honor the men that have died in the first World War. So in that regard, it's much more than just about letting the British take away one more part of your cultural pride, it's more about paying tribute to those who gave their lives. So I liked that. The acting is perfectly fine, nothing to write home about. Though I did very much enjoy Kenneth Griffith's portrayal of the Reverend. It was very good. But, at the same time, the film features Hugh Grant at his bumbling, fumbling worst. Or best, depending how you look at it. I've always been a big fan of Grant's more self-loathing and cynical performances, he pulls those off wonderfully. However, I do not like his over-the-top, 'look at how charming I am with my stammering' comedic performances. And this is one of those. I don't mean to say that he's bad in this movie, because he's not, but I've been there, done that so many times that it just doesn't do it for me anymore. Still the acting is solid. There's some hints of sentimentality at the end. It's minimal, but it is there. Think they made a mountain, in keeping with the theme, of a molehill with the more dramatic moments near the end. Just felt like they were trying too hard. Not with what happened with the Reverend, but when Anson says that he'll try to come back to measure the hill again. That stuff was a little goofy. The actual ending itself was quite good and seeing how this mountain has drawn generations of families closer together. Good movie, all things considered. Far from the best UK comedy I've seen, but nowhere near the worst. Could've been much better, but I enjoyed myself watching the movie.
Jesse Ortega
Super Reviewer
½
Charming period drama with beautiful Welsh rural scenes. Despite the lead billing Hugh Grant just stands around smiling, whilst the "locals" take the lead. The plot is dragged out until it thins in the middle, but there's a lovely soundtrack and a classic movie kiss to fill the space.
Ross Collins
Super Reviewer
Perfect vehicle for Hugh Grant to prance about being charming. The story is a nice one but not for a 100 minute film. Maybe as an ITV drama premiere this would have been good, but it is so bland that after half an hour you just pray it will end.
Luke Baldock
Super Reviewer
The Englishman Who Went up a Hill But Came Down A Mountain Quotes
There are no approved quotes yet for this movie.