Entrails of the Virgin
(1986)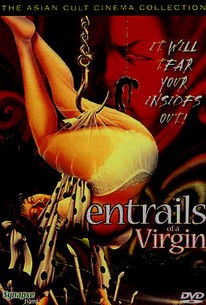 AUDIENCE SCORE
Critic Consensus: No consensus yet.
Movie Info
Kazuo Komizu, again using the pseudonym "Gaira," followed up his graphic 1986 film Bijo No Harawata with this even more lurid amalgam of graphic sex and stomach-churning violence. Three male photographers and their three female models drive down a lonely fog-blanketed road late at night and have to seek shelter in an isolated house, not knowing that a slimy zombie has risen from a nearby swamp and wants to kill them. The six engage in kinky sex games before being murdered in various gory ways. Eyes are popped from skulls, heads are lopped off, a man is hung from a metal hook, and so on. These events drive one of the models so crazy that she begins pleasuring herself with her dead boyfriend's severed arm before she is raped and disemboweled by the enormously endowed swamp monster. Quite a popular item in certain circles, the film's preoccupation with rape and violence toward women, while admittedly beyond the pale by American standards, is common in Japanese exploitation films. ~ Robert Firsching, Rovi
Critic Reviews for Entrails of the Virgin
There are no critic reviews yet for Entrails of the Virgin. Keep checking Rotten Tomatoes for updates!
Audience Reviews for Entrails of the Virgin
Such an uncomfortable movie that has that whole "CAN'T LOOK AWAY". Really it's just one whole pornographic flick hidden by graphic violence with the "be-heading" and "impalement" and "hanging". Sure it's terrible but easily entertaining for any "DIE HARD" horror fan and fan of erotic cinema or pornography, I did enjoy "Deep Throat" so that's a plus. Also I found the second movie to be slightly better despite how graphic it is (Entrails of the Beautiful women) and can easy put anyone of including a fan of gore like myself. PS another reason that "JAPANESE" are fucked in the head for making this movie of course. You don't see us Koreans getting into in controversy these days lol. So in some random mountain near Tokyo a group of people are filming a Soft-core pornographic flick and decide it's time to leave, down the road it gets really dark and foggy so they pull over and accidently make a wrong turn and up at an old warehouse. So there having sex and everything and start filming again and THEN! THE MONSTER COMES OUT AND DECIDES TO SLUGHTER THE MEN AND RAPE THE GIRLS! I like the part were the guy is outside and decides to make a run for it and he runs right into this "Mutant" like "creature" and it tears out his Jaw, and also the other part were the girl gets raped by the beast and it does the whole Noir effect with the shadow (Or shadow Rape). And he car scene of course where it rips of his head and it makes the girl have sex with it. The first part of the movie crap! Second part just MAD. Still a poorly made Erotic/Horror film that had some interesting elements. Personally I like the monster "girl" in the second movie she looked like a freken monster with all that burnt skin and deformed flesh and the muscles showing across her body. This monster is cool but it could have been slightly better. The soft-core sex isn't all that much of a turn on for anyone. The special effects are just MAD. The second movie got way more violent than this and some scenes for the first time ever I FAST FORWARD! I mean they were just vile and those Dead Body scenes were just disgusting with all the pits of people every with that shotgun in the stomach scene. And the monster girl (As I stated above) is the grossest fucken thing I have ever seen. I close this review by saying it up to you if you dare to view. I liked the disgusting second more because it was just "Horror" from start to finish.
Ariuza koraw
Super Reviewer
½
Shojo no harawata (Entrails of a Virgin) was just one of those movie you just were not allowed to watch when you were a kid. I always remember asking if I could watch it but the answer was always no. I once stuck the VHS in and sat there watching it and turned it off half way because of how scared I was. But today the film is really dull. Back when I was like 6 or 7 it scared me but today the film is really nothing special just the gore makes it worth a watch. So the movie starts off with people driving along the Highway to an old abandon house in the middle of the countryside then they turn off the Highway and take one last look at civilization before they can return again. They are going to shot a Pornographic/horror film at the house when they get there like always the place is a run down dump. Inside is nothing special. One of the girls claims she saw something looking at her in the window. So let me just skip a head. They shot the movie, Go for a walk, Come back there cars have been destroyed, The phones aren't working, And someone has just looked them in the house. Who is this someone why it's a monster. When we were young we always use to call that demon the shag monster because it kills the men and has sex with the women. All I can really say is the movie is very disturbing and violent. The film as I can recall was always very dark on VHS witch really frightens you but on DVD you can see all the detail including the monster hiding because of how bright it is. So it really ruined it. But like I have said the gore is truly the only best part about the film. Besides its kind of interesting story. There's no doubt in my mind this would have done very well at the Box office because of all the exploitation films. The acting I have to say is really nothing special I found it to be very poor a major downside to this movie. Sometimes throughout the film your always throwing a WTF because of some of the scenes. Not sure if I can recommended it. It's really all up to you. Keiko's score 32-100
½
A porno / Slasher Flix all in one now there is a switch, Wouldn't show this to anyone under 18, For all you teens reading this, Someone's got to look out for you. Little to much flesh and not so much gore. Nope wouldn't add it to my collection if you gave it to me.
Bruce Bruce
Super Reviewer
Entrails of the Virgin Quotes
There are no approved quotes yet for this movie.