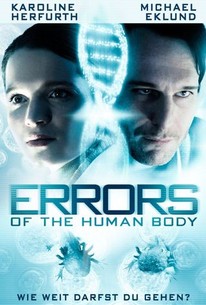 Errors of the Human Body
2012, Drama/Mystery & thriller, 1h 41m
12 Reviews
500+ Ratings
Where to watch
Rent/buy
Rent/buy
Rate And Review
Errors of the Human Body Photos
Movie Info
After losing his son to a rare genetic condition, a scientist (Michael Eklund) begins work on a regenerative drug that, unfortunately, yields terrible consequences.
Audience Reviews for Errors of the Human Body
This is a good movie. There's some part of this movie that reminds me of Cronenberg's The Fly with Michael Eklund's descent into madness as he's infected with the virus that claimed the life of his son and his obsession to find a cure for it. The movie is incredibly smart and it's obvious that a lot of work went into making the more scientific stuff seem credible and believable. If there's a problem is that the movie does take a while before it really starts to get going. I think the movie does make a concerted effort to add a little tension to the events with its score and editing. I thought those parts were cool, but it is a movie that will definitely test your patience for a while. But I think Michael Eklund's unhinged performance helps make this movie more than watchable. And the movie also brings up some interesting questions about the ethics of some of these studies and whether the ends justify the means. There's also themes of obsession, with Geoff obsessing over finding a cure to Burton's syndrome. And then there's the ending and the twist and its implications. I'm not sure whether I thought it was a good twist or a bad one. Certainly its implications are actually really dark, but at the same time it does feel kind of cheap. Because it's like 'Oh hey, you know that thing we spent so much time working on? Turns out it's a non-issue and it has always been since the beginning of time'. That felt really cheap to me, though it adds a darker layer to Geoff's character, but it sort of makes everything that happened in the movie irrelevant and pointless. I still thought this was a good movie with some interesting ideas and a great performance from Michael Eklund, it has its issues, but this is still a solid movie.
See Details