Evil Dead Trap
(1988)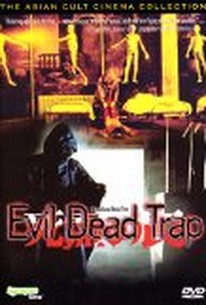 AUDIENCE SCORE
Critic Consensus: No consensus yet.
Movie Info
Toshiharu Ikeda directed this provocative horror film which spawned two sequels. Miyuki Ono stars as Nami, a talk-show hostess who receives a grotesque snuff video in the mail. She is outraged as she sees a young woman horribly murdered on the tape, complete with a truly foul sequence in which a blade is graphically plunged into the victim's eyeball. With her crew, Nami decides to track down the killer, leading her to an abandoned factory where her crew is repulsively slaughtered one by one. The outlandish ending depicts a man giving birth to his own split personality. Fumi Katsuragi, Hitomi Kobayashi, and Eriko Nakagawa co-star in this sickening but riveting slasher, which closely imitates Italian thrillers by Dario Argento and Lamberto Bava in style. The unrelated Shiryo No Wana 2: Hideki (1991) followed. All three films in the series were written by Takashi Ishii. ~ Robert Firsching, Rovi
Critic Reviews for Evil Dead Trap
All Critics (3) | Fresh (3) | Rotten (0) | DVD (2)
a monstrously stylised orgy of sex, violence and grotesque family dysfunction, insanely remixing past horror films to a Goblin-esque score, while prefiguring [REC] and the 'torture porn' that would dominate the Noughties.
The first hour has a grim and gritty anti-charm that's quite devilishly entertaining. And then the wheels kinda come off.
Audience Reviews for Evil Dead Trap
A Japanese giallo about a group of TV crew investigating an abandoned factory after receiving a snuff film, mysterious stranger kills them off one by one. I appreciated the style and twists Ishii has used, but the acting was terrible, it was as if all the "professional" film crew were high schoolers. The grainy, sepia setting was effectively used, the special effects were superb. I could see a lot of reference to Argento's works (electronic music during chasing scenes, insects, brief appearances of the killer, etc). This low budget slasher still has plenty of shock values even till this day. Despite starting off quite well, it slowly descended into boredom with no one to kill. It may be a good practice to just watch the first forty minutes and turn it off.
Sylvester Kuo
Super Reviewer
I've had quite the time with this one. When I first saw this I hated it ("This is nothing like Evil Dead!") but I keep returning to it like an abused spouse. Now, I quite like it. A lot actually. It's a bizarre film that rarely makes logical sense, but if you let yourself get into it, it can be a hell of a lot of fun. Great visuals and gore make it easy to see why genre fans call this the "Japanese Argento film". Now if only I could get into Argento....
Christopher Brown
Super Reviewer
Still holds shock value today.
Anthony Valletta
Super Reviewer
Evil Dead Trap Quotes
There are no approved quotes yet for this movie.