Faces in the Crowd
(2011)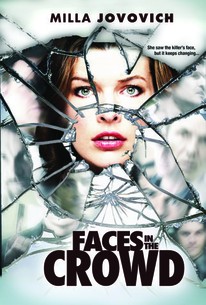 AUDIENCE SCORE
Critic Consensus: No consensus yet.
Faces in the Crowd Photos
Movie Info
Anna (Jovovich) may be the only survivor of serial killer Tearjerk Jack's horrendous reign, but left with "face blindness," she is completely unable to identify him - or anyone else. Now, with only a loyal detective's (Julian McMahon) face familiar to her, she cannot trust anyone as she struggles to resume her normal life, and, plagued by fear and a vindictive Jack, struggles to survive. -- (C) Millenium
Critic Reviews for Faces in the Crowd
All Critics (2) | Fresh (0) | Rotten (2) | DVD (1)
the film is barely distinguished from other thrillers with visually impaired protagonists (Blink, Julia's Eyes, etc), and suffers from an over-obvious solution and some overblown melodrama in the final scenes.
...the novel premise and Jovovich's strong performance almost manage to compensate for the pervasively uneven atmosphere.
Audience Reviews for Faces in the Crowd
I just found this silly. Boy! What a cast of characters they had to go through to make this movie. Was it worth it? No...
Cynthia S.
Super Reviewer
*1/2 out of **** "Faces in the Crowd" is 100% a feminist film and 40% a good one. To sum things up, it's a horror thriller about visual impairment and mistaken identity; with some cheap romance and emotional drama woven into the story for what I assume to be extra measure. I call it feminist because the protagonist - and most of her friends, meaning most of the characters - is a woman, and the men of the story are simply not to be trusted. In a story like this; there is a mystery, there is a killer, there are heroes, there are villains, and alas there must be a few slayings and ultimately something that passes for a solution to the problem. This is the kind of movie that I could imagine Dario Argento devoting his precious time to making...in the 1980's. It's not that the movie feels dated; it's that it just isn't very good, in any way. A screenplay is a screenplay, and this one has a fairly convoluted and unbelievable one. I appreciate what it's trying to do, and if a better director and screenwriter had been hired to expand upon the set-up, it might have been pretty good. Among other things, I wanted it to be good because I found the premise intriguing, but as soon as I set my eyes on a few of the "talents" involved, I was discouraged, and rightfully so. The film was released direct-to-video, and indeed there are worse movies plaguing the multiplex worldwide; but I can't think of a more suitable treatment for a movie of this standard and quality. A young woman named Anna (Milla Jovovich) starts developing and showing symptoms of Prosopagnosia after a chance encounter with a local serial killer known to nosy newspaper readers and contributors as "Tearjerker Jack". In case you don't know this already, Prosopagnosia means the inability to recognize every face that you see, even those belonging to people who are genuinely close to you. Now, Anna must live with tragedy; being rendered unable to identify her attacker or anyone else, for the matter. Sure, she's on the road to recovery throughout the picture (she sees a few psychiatrists; stays in touch with her friends of the Facebook generation); but every day it's the same old routine. She loses sight of just about everything in life; and almost in an entirely literal sense. Oddball policemen work on the case while Anna resumes her daily activities. For a while, they find nothing; but after some successful therapeutic sessions intended to cure Anna of this "disease" that she has contracted from violent tragedy, it becomes clear that there might just be a resolution to this murder mystery. But then again, you probably knew that from the beginning; and yet while the movie is uninvolving and the script even more severely so, you're likely to keep watching the damn thing until the credits start rolling. No, that doesn't imply that it's good, or engaging; but rather that it's a mystery that at least has the decency to employ enough clichés so that we don't want to shut it off halfway through. Yeah, it's still a pretty dumb flick; but it's not unwatchable. Directors have unleashed their nasty experiments of cinema onto the home video market for much less; and come to think about it, much more as well. The thing just keeps getting more absurd as it goes along, to the point where it's hard NOT to want to give up on the thing before it's even done. Jovovich is pretty unconvincing, as always; but then again, it's not like she's much better or worse than any of her co-stars. I suppose she's had even more unfortunate roles. Other than that, the direction is fairly uninspired, and so is the storytelling. Some of the cinematography is nice, but oh, why care about that? "Faces in the Crowd" is a stupid, tedious, and nigh unbearable disaster that could someday serve as a nice little training video of sorts for all the other movie-makers desperate to appeal to a home video crowd. It doesn't get anything wrong, and I've seen some really bad direct-to-video stuff in my time, but where it's not cheap technically, it's just about poor in every other aspect. Do yourself a favor. Skip the thing; and rent a quality serial killer thriller while you're at it.
Ryan Marshall
Super Reviewer
MisterYoda ?
Super Reviewer
Faces in the Crowd Quotes