The Faculty
(1998)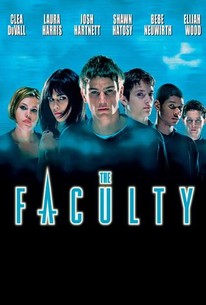 Movie Info
Like so many schools today, Herrington High has passed its prime. Its walls are grimy, its textbooks outdated, its teachers burned out. Yet its corridors are packed with the future of America - loners, leaders, hipsters, nerds, brains and jocks. Like teenagers everywhere, they struggle with parents who don't get it, teachers who never had it and hormones that won't quit. But the students at Herrington High face a greater challenge - saving the world from alien domination.
People Who Like this movie also like
News & Interviews for The Faculty
Critic Reviews for The Faculty
Audience Reviews for The Faculty
½
While this alien story might be familiar, thankfully, it ain't boring. Surely worth a shot.
familiar stranger
Super Reviewer
This is pretty much a sci-fi/horror flick crossbred with The Breakfast Club, but despite the cheesiness, it's still a pretty fun twist on an old formula, namely the one laid out by stuff like The Thing, and Invasion of the Body Snatchers. Representatives from various cliques (jock, wuss, prep, rebel, weirdo, new kid) ban together when they stumble upon the revelation that their school is ground zero for an alien invasion. It's nothing new, but Kevin Williamson and Robert Rodriguez put a nice and slick twist to things that makes for a very entertaining watch. I think I really gravitate towards this ,especially when I was younger, because I could identify with the themes of isolation, not fitting in, etc. which is why I also became a fan of The Breakfast Club around that time as well. The cast is star studded, featuring Elijah Wood, Clea Duvall, Josh Hartnett, Jordana Brewster, Laura Harris, and Shawn Hatosy as the primary group we follow, and Robert Patrick, Piper Laurie, Bebe Neuwirth, Salma Hayek, Jon Stewart, Famke Janssen, and even film critic Harry Knowles as some of the titular faculty. Christopher McDonald puts in an appearance as the father of Wood's character, and we also get singer Usher, Wiley Wiggins ,and Danny Masterson as some of the other students. The effects mostly hold up, though some look rather hammy. At least there's a decent amount of violence and some gruesomeness, even if not all of it is that convincing anymore. The film is a bit of a slow starting mystery, but once it kicks in, it's a fun ride with a decent soundtrack. Give it a go.
Chris Weber
Super Reviewer
½
Casey: If you were going to take over the world, would you blow up the White House 'Independence Day' style, or sneak in through the back door?  "Six students are about to find out their teachers really are from a different planet." Kevin Williamson does for the alien invasion movie with The Faculty what he had previously done for the slasher movie with Scream. The Faculty is a lot like Scream. It's set in a high school, there's a lot of references to the genre, there's a character that has the knowledge of what's going on because she's a lover of the science fiction genre, and there's the overall fun, funny, and entertaining script that Williamson brings to the table. Combine that with Robert Rodriguez's direction and you're in for an extremely fun, genre aware, teen horror show, that will be sure to keep you entertained for the duration. I can't lie, the movie has some plot holes and it has the flaws that go along with those plot holes. So, it is by no means a perfect movie. Now, I have to say that I loved each and every second of The Faculty. It was a smart, semi-satire, sci-fi, teen horror film. Robert Rodriguez directs it like you would expect from him. It's fast paced and there's quite a bit of stuff going on.  The Faculty is set in Herrington High School, which is somewhere in Ohio. Six students become aware of a situation in the school where faculty members seem to be being taken over by aliens. Soon it's them against everyone as the situation spreads extremely quickly. The six of them are brought together despite their differences. They all have their standard cliché. We have the geek, the jock, the cheerleader, the new girl, the drug dealer, and the goth. All of them are brought to life through cool dialogue and situations, and by competent actors. There's not much not to love here in my opinion. I can't see someone liking Scream and being unable to like this one. There's the same quick paced, electric feeling to it. There's the same feeling of spoofing the genre, while paying homage to it. Everything is there for an all around fun look at the alien invasion movie. There's references from Alien to Independence Day to Invasion of the Body Snatchers. The filmmakers have seen all these movies just like we have, and use elements of just about every alien invasion movie you can think of. Combined with a little smart and original tones on behalf of Williamson, it works great. Just a terrific film. Definitely worth a look for lovers of the genre and of Scream. I have trouble understanding why more people didn't fall completely in love with this movie. It's extremely underrated. Maybe it's because people expected it to be just as good as Scream or maybe it's because people just don't get it. Honestly, I don't really give a shit. I loved it.
Melvin White
Super Reviewer
The Faculty Quotes
| | |
| --- | --- |
| Marybeth Louise Hutchinson: | You know in my world Casey, there were limitless oceans as far as the eye could see. Beautiful, huh? Till it started to dry out. So I escaped, came here, and I met you, all of you, and all of you were different from the others. You were lost and lonely, just like me. And I thought that maybe I could give you a taste of my world. A world without anger, without fear, without attitude. Where the underachiever goes home at night to parents who care. The jock can be smart, the ugly duckling beautiful, and the class wuss doesn't have to live in terror. The new girl - well - the new girl she can just fit right in with anybody. People who are just like her. You see Casey, even Mary-Beth's feelings can be hurt by a bunch of pathetic, lost, little outcasts who truly believe that their disaffected lonely life is the only way they can survive. I can make you a part of something so special Casey, so perfect, so fearless. Don't you want that, Casey? |
| Casey Connor: | I'd rather be afraid! |
| Marybeth Louise Hutchinson: | Fine. Alright. Have it your way! 'Cause this is where your land of fiction gets it right: we win. End of story! |
| | |
| --- | --- |
| Stokely 'Stokes' Mitchell: | I always thought the only alien in this high school was me. |
| | |
| --- | --- |
| Casey Connor: | I say we go for the coach. He turned Stan. He's the one. Or do you want to wait for them to come to us? |
| Marybeth Louise Hutchinson: | Either way we're completely unarmed. |
| Zeke: | Maybe not. I might have some more skat. In my trunk. |
Discussion Forum
Discuss The Faculty on our Movie forum!