The Fall of the Louse of Usher
(2002)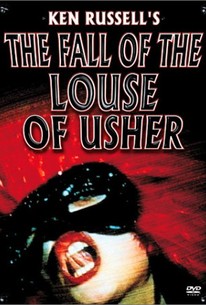 AUDIENCE SCORE
Critic Consensus: No consensus yet.
The Fall of the Louse of Usher Photos
Movie Info
Murder, mayhem, insanity, mini-skirted nuns, and inflatable doll orgies are only part of the fun in Ken Russell's predictably debauched ode to Edgar Allen Poe. Very freely adapted from Poe's The Fall of the House of Usher, Russell's low-budget DV-shot extravaganza is set in the sunny climes of Orange County, CA, where Roderick Usher, a popular yet deeply weird rock star, has been convicted of his wife's brutal murder. After being packed off for treatment at the County Lunatic Asylum, Usher is placed under the dubious care of the equally deranged Dr. Calihari (played by the director himself). When he's not tending to his patient with some decidedly questionable treatments, Calihari amuses himself with the fun-loving Nurse Smith. Somehow, between the skirt chasing, naughty nuns, and occasional musical number, the truth behind the murder of Usher's wife is revealed, as is the method behind Calihari's madness. The Fall of the Louse of Usher was screened at the 2002 Philadelphia Festival of World Cinema. ~ Rebecca Flint Marx, Rovi
Critic Reviews for The Fall of the Louse of Usher
There are no critic reviews yet for The Fall of the Louse of Usher. Keep checking Rotten Tomatoes for updates!
Audience Reviews for The Fall of the Louse of Usher
"Indulgent" and "directed by Ken Russell" are practically synonymous, but this warped Edgar Allan Poe tribute is ridiculous even by Russell standards. Essentially, this poor excuse for a movie feels like Russell just grabbed a video camera (yes, it was shot on video) and spent a couple of weeks shooting some younger friends hamming it up around the grounds of his estate. Mugging faces in extreme closeup are everywhere, and Russell himself plays a horny, lab-coated psychologist with a silly German accent. Not exactly a model of subtlety. Lead actor James Johnston is also a musician (grossly derivative of Nick Cave), and multiple scenes are simply detachable music videos dropped into the story. And the dramatic "fall" of the climax? It's a deflating bounce house shaped like a castle. No lie. This is as bad a film as you'll ever see from a major director.
Eric Broome
Super Reviewer
The Fall of the Louse of Usher Quotes
There are no approved quotes yet for this movie.