Falling Angels
(2005)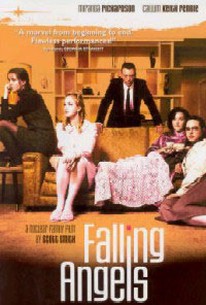 Movie Info
Canadian filmmaker Scott Smith directs the black comedy Falling Angels, based on the novel by Barbara Gowdy and adapted for the screen by poet and author Esta Spalding. Set in the late '60s and filmed on-location in Saskatchewan, this dark family drama focuses on the three teenaged daughters of the Field household. Callum Keith Rennie plays Jim Field, the loud-mouthed, domineering patriarch who has intimidated his wife Mary (Miranda Richardson) into a catatonic state of alcoholism and depression. Norma (Monté Gagné) is the oldest, most responsible daughter; she is overburdened and preoccupied by events from the past. Middle child Lou (Katharine Isabelle) chooses the rebellious path in order to escape her father's unreasonable demands. Youngest daughter Sandy (Kristin Adams) aspires to maximum femininity, engaging in an affair with an older, married man (Mark McKinney) in the process. Falling Angels was shown at the 2003 Toronto Film Festival.
Rating:
NR
Genre:
Directed By:
Written By:
In Theaters:
On DVD:
Runtime:
Studio:
Critic Reviews for Falling Angels
Audience Reviews for Falling Angels
Falling Angels may be rough at times but it has so much going for it, from content to performance, that it demands to be seen.
Lee Mayo
I love Katharine Isabelle and have scene all of her films except turning Paige and must admit that this is one of my top 5 favorite movies. Amazing acting and a depressing story line. One sister is pregnant, another a drug attic, and the other, a lesbian. My god, it's got to be a parents worst nightmare. Well it explains the end.
Alyssa Keller
½
Presented in trailers and packaging, god knows why, as some kind of dark comedy, Falling Angels isn't. It's not particularly somber, either, in its view of a end-of-the-sixties Toronto family that's been crazy for a good long time. (There is one kind of LOL moment, I guess: late in the film when Miranda Richardson suddenly says "I think your father has lost it.") Three daughters, the ____ revolution, a dark secret, the last dad on the block with a bomb shelter, mom in hiding, sexual awakening, experiments with LSD, one of them might be lesbian...this all sounds like a lot of mediocre movies. Or worse, that horrible Beatles movie the Spider Man Murders of Broadway lady did. Falling Angels has an overwhelming warmth to it, for all its angry and hurt detachment, though, and a great cast, and...Katherine Isabelle just never did make enough movies.
Robert Lee
Falling Angels Quotes
There are no approved quotes yet for this movie.