Familiar Strangers
(2008)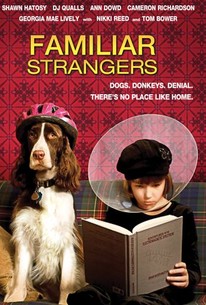 Familiar Strangers Photos
Movie Info
A dysfunctional family from rural Virginia contends with conflict, ritual, and communication as the grown-up son who has moved away and kept his distance returns home to spend Thanksgiving weekend with the parents and siblings he once left behind in director Zackary Adler's offbeat comedy. When Brian Worthington (Shawn Hatosy) left home some years ago, he and his father, Frank (Tom Bower), weren't exactly on the best of terms. Time doesn't necessarily heal all wounds, and when Frank lost the ability to connect with his maturing children, he began replacing them with pets that would never "grow up" and always remain loyal. Now that Brian has returned, it doesn't take him long to realize not much has changed: his mother, Dottie (Ann Dowd), is still the glue that holds them together, his twentysomething brother, Kenny (DJ Qualls), still hasn't struck out on his own, and his sister, Erin (Cameron Richardson), is struggling to recover from a messy divorce while raising her young daughter, Maddy (Georgia Mae Lively), who seems to possess an unusual wisdom for her age. As the big donkey basketball game draws near, Brian reconnects with pretty family friend Allison (Nikki Reed) and gets pressured into killing the one member of the family that his father seems to love more than his own flesh and blood -- the family dog Argus.
Critic Reviews for Familiar Strangers
Audience Reviews for Familiar Strangers
The end of this film is rather effective, and during the last few scenes, I admit that I almost felt something for the characters. But these few moments of pathos do nothing to make up for the sheer boredom (a word I try not to use) of the first hour and fifteen minutes. The characters are remarkably uninteresting with few definable aspects - drawn, one might say, with a blurry pen. The situations are contrived - made up out of cliches. And if this attempts to be a comedy, I can find no discernibly amusing moment. More to the point, whatever happened with the Brian/Allison plot? The only mildly charming character disappears, and the movie sorely misses her and its overall point.
Jim Hunter
Super Reviewer
CAST: Shawn Hatosy, D.J. Qualls, Ann Dowd, Tom Bower, Cameron Richardson, Georgia Mae Lively, Nikkie Reed DIRECTED BY: Zackary Adler SUMMARY: Brian, who has moved away from his family and kept his distance for the past several years, is reluctantly returning for Thanksgiving despite having an unresolved conflict with his father, Frank. Frank feels he has failed as a father, having lost the ability to connect with his maturing children. The rest of the family includes mother Dottie who holds the reins of the family beneath the surface, brother Kenny who is a twenty-something that has not yet found his path, sister Erin who is struggling to find herself after a painful divorce, and Erin's young daughter Maddy, truly wise beyond her years. MY THOUGHTS: "Indie Comedy Drama that takes some time to really get rolling as you get to know the characters, and then gets really interesting. I personally liked Kenny. He really brings the laughs. Well I find him funny and most relatable since that is the kind of things I do in my family. I kid the most and make a joke out of every situation. It is a film some can relate to including myself. Some parents really don't know how to make the transition from being a parent to a child to being the parent to an adult. Good story. If you have the patience for the slow start it gives." (DONKEYBALL HAS TO BE THE BEST REDNECK GAME EVER....LOL..)
♥˩ƳИИ ƜѲѲƉƧ♥
Super Reviewer
½
My type of film... a little nutty, a little real, and a whole lot of funny weirdness. Cute!
Leigh Ryan
Super Reviewer
Familiar Strangers Quotes
There are no approved quotes yet for this movie.