FAQ: Frequently Asked Questions
(2005)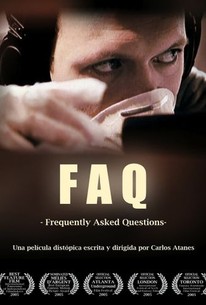 AUDIENCE SCORE
Critic Consensus: No consensus yet.
Movie Info
Spanish director Carlos Atanes's dystopian sci-fi drama FAQ: Frequently Asked Questions unfolds in a totalitarian Paris of the near future, ruled over by a matriarchal organization called 'The Sisterhood of Metacontrol.' This governing body forbids all physical interaction between genders to prevent contamination. Grossly dissatisfied with these rules and craving erotic contact, two rebels - new societal inductee Angeline W.R.S. (Anne-Céline Auché) and one of the Sisterhood's male servants, Nono (Xavier Tort) discover a sexual attraction to one another and slip off as refugees to one of the planet's remaining "sexual" areas, in the Pyrenees. En route, however, they find it increasingly difficult to evade detection and capture.
Critic Reviews for FAQ: Frequently Asked Questions
There are no critic reviews yet for FAQ: Frequently Asked Questions. Keep checking Rotten Tomatoes for updates!
Audience Reviews for FAQ: Frequently Asked Questions
In a sex-free future ruled by a totalitarian matriarchy, the government wants to topple the Eiffel Tower (phallic symbol), and the male underground resists by making porno movies (that daringly feature the two sexes touching each other, fully clothed). To be avoided by anyone looking for a standard sci-fi film: it's filled with nonsensical avant-garde touches (like the man who puts on a clown nose after he concludes a serious speech), it drags a good bit in the middle and cops out at the end, and it's impossible to tell if the anti-feminist message is seriously intended or is an ironic joke. Still, the movie's different and unpredictable enough that it managed to keep my interest for the full 80 minutes.
A pretty damn cool film about a future world, mostly set in Paris, that was devastated by something (war or disaster of some sort that has permanently altered the environment) but is now being rebuilt by a fascist matriarchal meritocracy that disallows men and women from touching, discourages most physical pleasures and memories of how things were, and encourages people to forget old political philosophies and promotes many OCD characteristics upon its citizens concerning cleanliness and acceptable social behavior. SLIGHT SPOILERS BELOW - no biggies that ruin the experience, but definitely an expanded synopsis so not for those who like to go into a film blank slate Our main character Nono is one of the few men trusted to work for the matriarchal government, and he records sounds of nature as a hobby, which is unlawful for him to do. Nono engages in another illegal activity, regularly accessing an outlawed network to watch artsy subliminal videos that often show men and women touching (they use a really cheesy video look and are quite annoying just o look at). Two men come to visit him, calling themselves part of "The Cause", claiming to be interested in his audio work and in collaborating with him to complete the archives, with their dream audio clip being of "The breath, the palpitation of the human body, of the female". Nono is keen to tackle this task and quickly sets his sights on co-worker Angeline to record. Angeline, who has recently entered officially entered the Sisterhood, and Nono set upon a scientific retreat to one of the few still forested areas in France to search for and record all signs of life there. Nono, in his way, develops leaps as a human and Angeline's fascination with him only grows as does her desire to deviate from The Doctrine. Too bad these scenes are pretty slow and not the best lighting conditions; they bog down the movie a good deal. Following a mishap on the return home from the wilderness retreat, Nono finds the two men from earlier on a shoot and discovers that they are the "film-makers" whose work he watches on the network. Nono, the two men, and their male actor are arrested and we get to watch their, along with several other men's unrelated, whole trial and sentencing process, which is the OVERALL BEST SCENE in the film and most revealing about the government's exact policies and their inhumane harshness. Nono ALL of his crimes read to him, and Big Sister is just as if perhaps more astute than Big Brother, is released for "having led security forces to the subversives and will be put at the disposition of the Sisterhood of Metacontrol". Nono gets to witness the demolition of the EIffel Tower, an oppressive phallic symbol that cannot stand for the new government to flourish, on his way to visit Number Three in the Sisterhood, who missed the Eiffel Tower social to receive him at her home. She has a loyal rottweiler-fierce butler lay down the basic laws of behavior, and a razor sharp female assistant cuts to the point that they too want him for his gifts but then she is quick to cut him deep about his "sins" and remind him that he can never "taste a woman's sex, the most forbidden fruit in the world". Number Three thinks he's useless, commands to have him discarded, and the butler tries to strangle Nono, but he's been slipping into another reality for some time now and he's finally ready to cross over when he sees a laptop in the nearby room, evades his strangler, and goes again to watch on the network. If it weren't for the frustrating ending (which I won't overtly give away but I will say that it is the filmic equivalent of "it was all a dream"), I would rate this half, maybe even a whole star (depending on the alternative ending) higher. The ending chosen cheapens everything that has gone before it and DOES NOT convey some grand message about the fragility of reality or the power of motion pictures as transformative art. No, it shows that this director is not one who properly understands how to use the transformative art of film to convey the fragility of reality, so he must instead insert a cheap plot point cop out to do so (or quote Shakespeare as he does earlier in the film when approaching this formidable precipice of the termination of reality). "That's Fucked Up" highlights: check out the sentences that were carried out and note that between them the Sisterhood elite eat the live organs of our la protagoniste; here's un example, following the previous defendant being lobotomized for trial (with a visible hole in his head), "The punishment offered is insufficient. This court will decide on one. Defendant 001 should confess his crimes. public. His teeth shall be extracted with pliers. Channels shall be opened in his back in 4 places at the height of the kidneys. The openings shall be filled with salt. His testicles will be introduced into a nest of red ants. And he shall be decapitated by blows before the year ends. Begin the defendant's punishment now." mind you at least they don't show any of these...
_kelly .King
Super Reviewer
FAQ: Frequently Asked Questions Quotes
There are no approved quotes yet for this movie.