Fat Girl
(2001)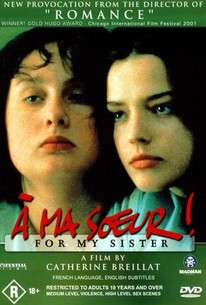 Movie Info
Elena is the gorgeous fifteen-year-old who is forced to drag along pudgy twelve-year-old Anais as she trolls for boys in the cafes of a seaside resort where their family is vacationing. Treating Anais with casual cruelty, Elena smooches a handsome young Italian as her sister gorges on a banana split and later, in their shared bedroom, commands her to sleep as the twenty something Lothario climbs in through the window. As Elena is deflowered--in an extended scene of wincing black humor and exquisite accuracy--Anais writhes in fascination, envy and her own budding desire. When Elena1s transgression is revealed to their parents, their furious mother breaks off the holiday and embarks on the long drive home with the girls in the back seat. The summer vacation is over, but, as they discover on a tension-filled journey that leads to the story's startling conclusion, the family adventure is not.
News & Interviews for Fat Girl
Critic Reviews for Fat Girl
Audience Reviews for Fat Girl
I didn´t know Catherine Breillat´s work, so it was quiet a good surprise. The movie is very realistic and it shows perfectly the sisters relationship (love and hate) and the excitement, fear and all feelings around the first sexual experience. I don´t think the end is supposed to shock. From the first scene we know that something is going to happen, even tending to think that Anaïs is going to do something against Elena. When they are driving home and later, in the car, after Elena comes back from the bathroom, it gets obvious. Experimenting her sexuality through her sister´s, when Anaïs says Elena to not think about Fernando and sleep it seems that she´s saying: just sleep, now it´s my turn. She doesn´t try to escape from the murder, she barely tries to resist; she knows that it´s something inevitable as much as it is to a guy falling in love or be attracted to her sister. She doesn´t seem shocked or sad with her mother and sister´s death, but satisfied for knowing how it´s to be desirable - wrongly thinking, of course - and free (or something alike) of the heavily presence (and beauty) of Elena.
Rubia Carolina
Super Reviewer
½
I have mixed feelings on this storyline, firstly it articulates the feelings of these two very young girls in a realistic sense, I?m sure many ladies out there watching this film will relate to this with nostalgia and can draw an understanding of the circumstances. Secondly though, it was no doubt controversial and an uncomfortable watch in parts, especially with the nudity, I guess, the disturbing feel is what you are supposed to feel with this storyline, of course you can see it?s purpose yet almost wish it wasn?t necessary. It cleverly unravelled the manipulation from the male, which is targeted, obviously to the girl because of her age. Finally the ending, which was totally unexpected, sums up the whole theme of the film and the different view points in which the girls have about their first sexual experience and does not logically make sense, but, I guess the beauty of this film is that, it is illogical and told through the eyes of the innocent.
Lady D'arbanville
Super Reviewer
This is a film that could not have been made in Hollywood. The social restraints (not to mention the legal ones) would not have permitted it, at least not in its present form. Fat Girl is quite frank and matter-of-fact in the depiction of adolescents in sexual situations. This adds to the impact of the picture but undoubtedly limits its accessibility to American audiences. Its not mainstream cinema, it was never intended to be, but I, for one, found its honesty refreshing. ...plus, if the ending doesn't give you one of those jaw-dropping, did-I-just-see-what-I-thought-I-saw moments then you're not paying attention.
Randy Tippy
Super Reviewer
Fat Girl Quotes
There are no approved quotes yet for this movie.