The Shrine
(2010)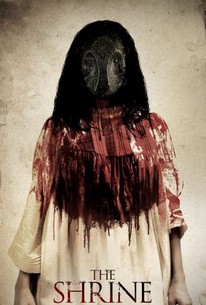 AUDIENCE SCORE
Critic Consensus: No consensus yet.
Movie Info
After a young American backpacker goes missing in Europe, a group of journalists link his disappearance to a remote village in Poland. They travel there hoping to get the story, but as they unravel the secrets behind this mysterious village, they are suddenly pursued by hostile locals. Unable to escape, they soon become the next victims of ritualistic human sacrifice. Forced into the gruesome reality of true survival horror, the journalists will discover that this village hides a much darker secret than they could ever imagine. -- (C) IFC Films
Critic Reviews for The Shrine
Audience Reviews for The Shrine
Not a half bad movie all things considered. It certainly starts out slowly enough, much like a lot of horror movies, but it honestly progresses at a nice pace. It gives you bits and pieces of information without really revealing anything. So, at the very least, you'ref invested in seeing what exactly is going on here and why the village is so unfriendly to outsiders who venture far too deeply into the woods. Perhaps the film doesn't really have enough material to go 80-some odd minutes, but I think they do about as good a job as they possibly can with the material they were given. But the film, to me, is never bad at any point. It's just about building to the climax and getting to the climax isn't what I would call laborious, it just takes a little more effort to stay with the film until that point. I mean I wanted to see how it played out but there were parts were I could've just stopped the film and it wouldn't have bothered me none. Though I definitely do think that the climax itself is, easily, by a country mile, the best part of the entire movie. There's some solid gore and it builds really well. It's not that the third act of the film itself will set any new standards for excellency in horror, it clearly didn't judging by the score I gave it, but it was pretty fun in all honestly. I just wish that the rest of the film had matched the third act in intensity and just fun horror elements. The film, obviously, doesn't have great cinematography or great acting, that holds it back a bit. The familiarity of the story itself might be an issue, but that never really bothered me as much as some of the pacing issues. Honestly, not the best horror film you will ever see, but the third act is pretty entertaining and it makes this movie, while still below average, one of the better below average horror movies you will ever see. Not exactly recommended, but still a fine diversion that won't piss you off too much.
Jesse Ortega
Super Reviewer
½
I am sick and tired of badly made horror films lately. This used to be one of my favorite genres, but good horror flicks are far and few between anymore. This one isn't half bad, though. It is an Independent film, which is a plus for me. It isn't, however, for those looking for a complete bloodfest. This movie has more eerie, creepy vibes about it, until the end. Then the bloodfest commences. However, this movie is set in Poland, and they chose to make most of that time in only Polish (no subtitles). Interesting decision, and made me like the film a little less....but up to that point I found this movie rather decently done...
Cynthia S.
Super Reviewer
The story is completely unoriginal and the writing could definitely use some work. The plot is so forced and the characters make awful decisions and the girl characters are painfully obnoxious. Like SO obnoxious. The guy character is the only rational one out of the bunch. All are terrible actors though. They aren't passionate enough. If someone was about to nail a metal bolt into your head, I expect you to do more than just whimper quietly. It's a really stupid storyline. Nothing that creepy about it considering it's been done 1,000,000,000,000 times before. I also hated the ending. I hate movies where the writer just has NO clue how the fuck he's going to end the film. He thinks about a bunch of different possible endings, but they all seem stupid/dumb/lame/etc. so in the end he just says "You know what? Let's just say *SPOILER* the town was cursed and that's why everything is happening." Like really? A curse? It would've been better if he had left the audience guessing or actually used some creativity to make a decent ending that didn't suck. I've seen so many movies that just end horribly like this one. Endings like this not only make the film worse, but they show the true laziness of the writers.
The Shrine Quotes
There are no approved quotes yet for this movie.