Fighting Tommy Riley
(2005)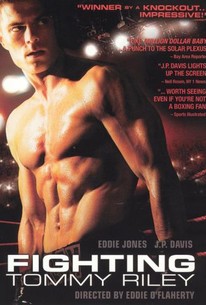 Fighting Tommy Riley Videos
Fighting Tommy Riley Photos
Movie Info
A young fighter and an elderly trainer try to trade their shaky futures in for a championship belt in this independent drama. Tommy Riley (J.P. Davis) is a boxer whose young career is already in decline; while he has talent, he also has personal demons to contend with, a sloppy style in the ring, and is still trying to get over a bad breakup with his girlfriend Stephanie (Christina Chambers). As Tommy tries to find a way back into the spotlight, he meets Marty Goldberg (Eddie Jones), an aging former fighter who struggles to make ends meet. Marty thinks he knows how to channel Tommy's gifts and make him the successful fighter he could be, though he soon discovers getting past Tommy's emotional defenses is no small task. In time, Marty grooms Tommy into a comeback kid, and they develop a powerful emotional bond, but when a secret from Marty's past unexpectedly rises to the surface, it threatens to undo all the two friends have accomplished together. Fighting Tommy Riley was written by co-star J.P. Davis, who stipulated that he be cast in the title role before he would allow his script to be used.
Rating:
R (for language and some sexual content.)
Genre:
Directed By:
Written By:
In Theaters:
On DVD:
Runtime:
Studio:
Critic Reviews for Fighting Tommy Riley
Audience Reviews for Fighting Tommy Riley
The biggest flaw with 'Fighting Tommy Riley,' is that it's lead actor (Davis) just simply couldn't match his supporting actors (Jones) performance. Bad actors in fight films certainly isn't a new thing, but when you throw in serious subject matter, as well, you really should have an actor who is capable of at the very least , being able to hold his own. J.P. Davis is simply awful, and if he had landed the part in a 'Lionheart' remake, maybe we wouldn't have noticed.
Bloodmarsh Krackoon
This is a good, compelling movie. J.P. Davis is a great newcomer, and Eddie Jones is a bit over-the-top but perfect most of the time. And even though the dialogue feels like they've been cut and paste from a book of lines, the characters have great heart and soul, so in the end, you really do care for them.
Minh Man
½
Well done.. I had watched about 15 minutes of the movie before on Logo.. and finally decided to rent it to see the end.. I'm not impressed by the way they handled the gay character, but.. oh well.. the movie was far more about Tommy anyway.. and his character was human.. made some mistakes.. realized when he did it and tried to make up for it.. Well acted, mostly well written.. and for those willing to watch it all the way through.. a great story.
Anne Still
Fighting Tommy Riley Quotes
There are no approved quotes yet for this movie.