Fire Birds
(1990)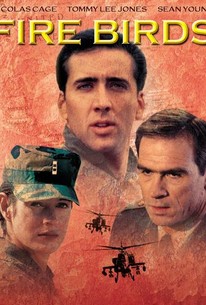 TOMATOMETER
AUDIENCE SCORE
Critic Consensus: Despite the talent on board, Fire Birds is little more than a subpar military adventure sporting video game-like action, outdated philosophy, and uneven acting.
Movie Info
Nicolas Cage stars in the below-par action film Firebirds -- a dying ember from Reagan-era nationalistic jingoism. In this Top Gun retread, Cage plays Jake Preston, a hotshot Army helicopter pilot who is being trained to use the U.S. Army's Apache aircraft to destroy the drug fields of a South American drug cartel. It up to his taskmaster instructor Brad Little (Tommy Lee Jones) to teach Jake humble lessons before he can be trusted to launch into the skies against the drug dealers. While Jake is trying to tame his egoism, he engages in a torrid love affair with flying ace Billie Lee Guthrie (Sean Young). The film was originally titled Wings of the Apache for the U.S. Army Apache assault helicopters that are prominently displayed in the film.
Critic Reviews for Fire Birds
Audience Reviews for Fire Birds
If making movies was like a game of chess then this film is the equivalent of a game of checkers. Shadows of Top Gun (made 4 years earlier)are all over this except that the co-star here is the justifiably reputable Apache helicopter. In point of fact there are portions of this that actually feel more like a advertisement for that WMD machine.The actors charisma is counted on to disguise that weakness ... and though attempted, ultimately failed, which is why you probably never heard of this.
Kevin M. Williams
Super Reviewer
Jake Preston (Nicolas Cage) is a helicopter pilot training for war against a famous nemesis. Jake is the most skilled flyer of everybody, but he has a team of other helicopter flyers behind him including Brad Little (Tommy Lee Jones), who helps Jake train to be an even better pilot. I thought "Fire Birds" was a good action movie. It might not be the best of its kind, but it's certainly not a bad movie. The training sequences and the final showdown between the Fire Birds and their major enemy is exciting. If you like action movies and especially if you like flying movies, I recommend getting "Fire Birds." NOTE: That was my Amazon review from the year 2000. Underrated action/flying flick to me.
Jason Owens
Super Reviewer
A blatant Top Gun ripoff, this movie showcases the US Army Apache Helicpoter. Nicolas Cage assumes the Tom Cruise role as the hotshot helicopter pilot training to fly the Apache. Tommy Lee Jones is the token instructor who's seen it all, but remains in awe of the hotshot new pilot. Non-actress Sean Young line reads her way through the useless love interest role, who also just happens to be a helicopter pilot. And you thought the love story in Top Gun was wooden. All of this is moot since the movie serves only to throw the Apache into battle sequences. We get all the training sequences as our "hero" proves his stuff, until the squad is thrown into combat against a drug cartel at the end of the movie. The final battle sequence is fast moving and exciting, and wraps up the movie well. The journey to get there is as cookie cutter as these movies get, and at times you think they are making a parody of this genre. There are a couple of times the movie seems more Hot Shots than Top Gun. Still, as far as 80's action movies go (ok, it was released in 1990, but was MADE in 1989), it's a decent way to kill 90 minutes.
RJ MacReady
Super Reviewer
Fire Birds Quotes
There are no approved quotes yet for this movie.