Firefox
(1982)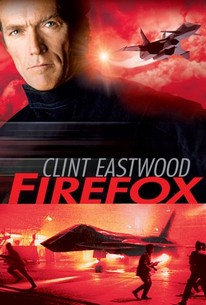 Movie Info
Producer/director/star Clint Eastwood takes his sweet time getting Firefox started. Eastwood plays Mitchell Gant, a past-his-prime U.S. pilot, smuggled into the Soviet Union to steal a new Russian supersonic fighting plane. Fortunately the KGB men are as burnt out as Gant, enabling him to abscond with the plane with the greatest of ease. The rest of the film is a protracted chase, pitting Gant against scores of impersonal MIG pilots. Based on a novel by Craig Thomas. ~ Hal Erickson, Rovi
People Who Like this movie also like
Critic Reviews for Firefox
All Critics (11) | Top Critics (1) | Fresh (5) | Rotten (6) | DVD (1)
The movie is saved from the trash-bin thanks to Clint Eastwood.
January 17, 2004 | Rating: 2/5
Once the chases kick in and the invisible jet shows up, you'll have already withstood a healthy amount of yawns for your troubles.
Audience Reviews for Firefox
A well-crafted cold-war thriller that has wild combination of great special effects and absurdity that still makes for solid action entertainment. Not one of Eastwood`s best but still entertaining enough get your money`s worth
The first half of this movie is utterly flawless and therefore I can't say it's bad. While the last forty minutes are absolutely ridiculous, the rest is good enough to even things out. Clint Eastwood does a great job at playing a man of disguises and looks as threatening as possible, even up against classic Indiana Jones and Star Wars henchmen like Toht and Admiral Piett. There's a really great espionage story at the heart of everything, which should be remembered above the cheesy airplane scenes and psychic Russian commands.
Conner Rainwater
Super Reviewer
The 1980's were not great to Clint Eastwood. For every good movie he did during the decade, there was another that was borderline horrible. You know their names: Pink Cadillac. City Heat. White Hunter, Black Heart. Holding a special place in this list of Eastwood flops from the Reagan era is Firefox, a film that's dull as hell and is the worst miscasting of Clint Eastwood's career. The film is about a mission to steal a new Russian jet called Firefox, which is able to achieve obscene speeds and runs just by the pilot thinking. That means you have to get a pilot to sneak into to Russia that is the same build, great at flying, and can speak Russian. That narrows he list down to Mitchell Gant (Clint Eastwood), a former pilot in Vietnam living with shell shock (if you don't know what that is, please look up the George Carlin bit) that fits the criteria perfectly. It's up to Gant and the Moscow underground to get him to the plane so that he can steal it for the USA. The first thing I noticed watching this film is the number of people willing to die so that Eastwood can steal this plane. It's not like it's the atomic bomb or you're going to stop mass genocide- it's a damn plane. We'll have the Japanese build one that's smaller, faster, and better. Don't sacrifice yourself. Basically, the entire movie is a cat and mouse game. The KGB are going to get him and....................oh, Eastwood escapes yet again. That's the movie. Over and over again. What should have been a MacGuffin plot in a James Bond film is now a full blown movie with Clint Eastwood as the super spy. But he isn't. It's Clint Eastwood. He isn't sneaky and able to slip through the cracks. Let's imagine Dirty Harry trying to be sneaky. Doesn't work, does it? Eastwood's legend is the guy that roars in, guns blazing with witty remarks against his dumbfounded superiors. Firefox doesn't do that and shows Eastwood in the uncomfortable state of an unstable spy behind the Iron Curtain. It's a failure for the legend. Sadly, he also directed this film too and with the special effects sequences at the end and the espionage plot throughout he fails to keep our interest. We're just bored as hell and when the big finish starts we're treating to some of the worst special effects seen in the 1980's. You have to remember that this film came out the same year as E.T. and was sandwiched between two Star Wars films and the other effects heavy films of the early '80's. Firefox's effects are laughable. This film is for Eastwood completists only! It's an artifact. It's a legend stretching himself too much into a role that in no way suits him. This film is a complete disaster. A true plane crash. (Hardy-har-har)
Chris Garman
Super Reviewer
Firefox Quotes
There are no approved quotes yet for this movie.