Fist of the Vampire
(2007)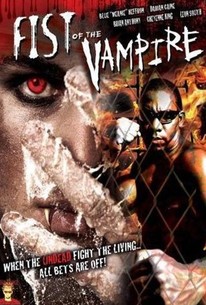 AUDIENCE SCORE
Critic Consensus: No consensus yet.
Fist of the Vampire Photos
Movie Info
Exactly three decades after an entire family is murdered in cold blood, an undercover detective investigating an illegal underground fighting tournament finds a cold case slowly heating up again. 1977: Authorities discover an entire family dead, the victim of an elusive killer. Three decades later the case has yet to be solved. Detective Lee Southward (Brian Anthony Fabian) prepares to infiltrate an illegal fighting tournament and arrest the organizers. As Detective Southward works his way up through the ranks in the clandestine organization, the clues he gathers continually lead him back to the mysterious case of the slain family. Just then, the case takes a horrific turn. It appears that the organizers of the tournament (Brian Heffron and Darian Caine) are blood-sucking vampires, and now in order to fight his way up from the underground and stop the legions of the undead from growing, Detective Southward will have to enlist the aid of another undercover officer (Cheyenne King) whose fast on her feet and quick on the trigger.
Critic Reviews for Fist of the Vampire
There are no critic reviews yet for Fist of the Vampire. Keep checking Rotten Tomatoes for updates!
Audience Reviews for Fist of the Vampire
Not The Worst movie I have ever seen, wouldn't rate it as high as a B-Movie this is low budget kind of a cult type of film, after all its produced by Killer Wolf Films, I got my Copy from Mill Creeks Mortuary of Madness collection, if your into these type films I say you better go out and by this 50 Movie collection, it runs about twenty bucks. What we have is a cop looking for the folks who killed his parents 30 years ago, and when he finds them they haven?t changed a bit, ahhh Vampires, plenty of action, some nudity (Not enough) Few Lesbians running around, and some underground fighting. Special affects were Ok with bullet flashes and bullets that bounced off of Aluminum. All and all a 3 star movie. If you give this one a 4 or 5 you need to add me to your friends list., cause you?re my kind of people.
Bruce Bruce
Super Reviewer
Fist of the Vampire Quotes
There are no approved quotes yet for this movie.