Five
(1951)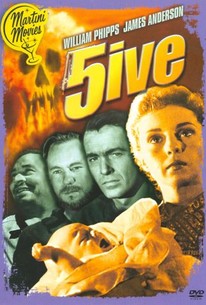 Movie Info
One of the most pretentious "apocalypse" films ever made, Five is set in a lavish Frank Lloyd Wright-designed house--owned by Arch Oboler, the film's writer/producer/director. The "five" of the title are the only survivors of a nuclear disaster, all of whom have rather illogically converged in this house. William Phipps, the hero, was left untouched by the explosion because he'd been alone in an Empire State Building elevator! He is the first to arrive at the house, and is joined in quick succession by a pregnant woman (Susan Douglas), a fascistic soldier of fortune (James Anderson), an African American doorman (Charles Lampkin) and a shell-shocked bank clerk (Earl Lee). The clerk mercifully dies of radiation early on, leaving the remaining four to converse at great and boring length on all things philosophical. At long, long last, only the hero and the woman are left alive to do the "Adam and Eve" bit. Though Arch Oboler was one of the greatest radio writers of all time, Five proves that he was in over his head as a filmmaker; the dialogue evokes laughter rather than profound thought, and the plotline has logic holes big enough to drive trucks through.
Audience Reviews for Five
½
Although it's called five, I cannot give it a 5. This apocalypse film is not only depressing, it's boring too. There's no music for the most part, the actors don't know what to do with themselves, nothing really happens, and it doesn't even end. At least it succeeds in depressing the audience.
Five Quotes
There are no approved quotes yet for this movie.