The Flesh and Blood Show (Asylum of the Insane)
(1972)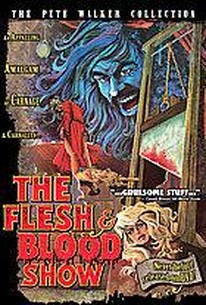 AUDIENCE SCORE
Critic Consensus: No consensus yet.
The Flesh and Blood Show (Asylum of the Insane) Photos
Movie Info
This sick little horror film from British gore/exploitation director Pete Walker finds a group of actors summoned by an anonymous producer to take part in a gruesome Grand Guignol play being staged at an isolated resort, only to find that their characters' elaborately staged theatrical deaths are designed to do them in for real. It is revealed that their unseen benefactor is a former stage performer, driven psychotic after catching another actor in bed with his wife, who now seeks symbolic retribution against all actors for their immoral behavior. Though not quite as sleazy as some of Walker's later work, this is still fairly gruesome stuff. The same theme gets vastly superior treatment in the following year's Theatre of Blood, featuring a tour-de-force performance from Vincent Price. ~ Cavett Binion, Rovi
Critic Reviews for The Flesh and Blood Show (Asylum of the Insane)
Audience Reviews for The Flesh and Blood Show (Asylum of the Insane)
Despite the obviously limited budget and the directors insistence on showing as much naked female flesh as possible I actually thought this was a good little concept for a horror film and the setting (a diused theatre on the end of a pier) worked very well. Of course the whole thing is ridiculous and the so-called 'acting' of this improvisational theatre company is hilarious but you get the feeling that with a little more time, money and effort this could have been a really good British horror. It plays a bit like a mixture of Christie's 'Ten Little Indians' and an Italian Giallo film and that's no bad thing.
David Sayers
Super Reviewer
This is from the 42nd Street Vol 1. Well Now I know why Dad never took me to 42nd Street. Its the old get a group of people together and they disappear one by one. Nudity ahh yes, One thing about the Women of the 70'ies and 80'ies they didn't have tattoo's all over ther bodies. Some nice T&A shots. But still only one star as I found myself reading the paper during this one.
Bruce Bruce
Super Reviewer
The Flesh and Blood Show (Asylum of the Insane) Quotes
There are no approved quotes yet for this movie.