For My Father (Sof Shavua B'Tel Aviv)
(2010)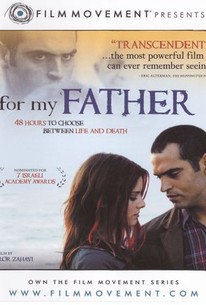 For My Father (Sof Shavua B'Tel Aviv) Photos
Movie Info
Weaves together the lives of a Palestinian youth, an embittered older man and a religious 17-year-old girl over the course of one weekend in Tel Aviv.
News & Interviews for For My Father (Sof Shavua B'Tel Aviv)
Critic Reviews for For My Father (Sof Shavua B'Tel Aviv)
Audience Reviews for For My Father (Sof Shavua B'Tel Aviv)
Deserved those 7 Israeli Oscars even thought critics don't think so. What was best about this foreign film was the writing. A very depressing story. What I really liked was that it kept to the point. It didn't add anything that wasn't necessary. It was very artistic in a way. The directing was good as well. Nothing real special but good nevertheless. The production values where the worst part but it wasn't too bad that it would have lowered the rating. The acting was really good as well. Very emotional. Overall, this is a depressing and emotional film.
Eduardo Tobias
Super Reviewer
This movie was really cute in a sad and depressing sort of way. I understand what the director was trying to get at, but at the end all of it seems for nothing. All this built up suspense about what Tarek is going to do is completely crushed. *SPOILERS below* It would've been nice to have an ending that was more purposeful. The audience is left still knowing that Tarek's family is sad by his death, Keren still has no friends, Katz, who seemed to view Tarek as the son he lost, is left again without a child, and Tarek's father is still probably going to die. It seemed so cute and happy towards the middle, but then it went downhill and kept going downhill. I didn't really agree with the approach the director decided to take. I think if Tarek had a more positive impact on the people he met and he was able to do something more with his life, I would've been more satisfied. However the ending was so depressing. As the camera eased out from Keren's tragically morbid face with tears in her eyes, I was like "they aren't really going to end the movie here are they?" But yep, they do. When I first heard about this movie, I thought it would be funny. I imagined the suicide bomber going to the town and making himself stand out in the crowd so everyone would notice he had dynamite strapped to his chest. Then I imagined him trying to detonate the bomb that wouldn't go off due to the "faulty fuse" as netflix described. Then I thought all the people would stop and stare at him before beating the shit of his face. Then the suicide bomber would be like "Oh shit!" But that is not how the movie went, and I have to say I was kind of disappointed. I think my version would've been both comical and dramatic. They should do a sequel to this movie using my version. Then they can call it "For Tarek". Yeah. If I could talk whatever language those people were talking, I'd make the movie myself.
For My Father (Sof Shavua B'Tel Aviv) Quotes
There are no approved quotes yet for this movie.