Forces of Nature
(1999)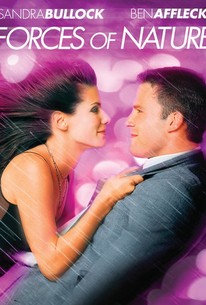 Movie Info
Ben has to get from New York to Savannah for his wedding to Bridget. He has everything under control until an eccentric young woman named Sarah literally falls into his life... and atmospheric conditions become decidedly unstable. Despite being detained, derailed and disrobed, panic doesn't really set in until Ben realizes that he's developing a definite attraction to the sexy and impetuous Sarah... and the feeling is decidedly mutual. It seems that man, machine and the forces of nature are conspiring to keep Ben from his vows, leaving him to wonder if this is some kind of cosmic test... and if it is, will he pass?
People Who Like this movie also like
Critic Reviews for Forces of Nature
Audience Reviews for Forces of Nature
For some reason the end of the nineties prompted these bleak, dumpy romantic dramas with fast editing and blue tint cinematography. This film did it, "Life Less Ordinary" did it, and every mediocre romantic dramedy did it as well. Even casting likeable Sandra Bullock and the ever popular Ben Affleck couldn't save this movie, probably because their chemistry sucks. Their characters are one note, Bullock is the definition of "manic pixie dream girl" in this case, only serving as a plot device rather than a fully fleshed out character. Her lies and grandiose sense of adventure don't make her anything but a flat nothing of a character. This film is melodramatic, it meanders along at a really slow pace, and throws a lot at the audience all at once without explanation. The director is obviously trying to make a point about how commitment isn't a death sentence and love is forever, but she bogs us down in exposition and pandering, to the point where it's alienating. There's just nothing easy or entertaining about this film.
Spencer S.
Super Reviewer
A little known rom-com starring Sandra Bullock. A guy traveling to get married meets a free-spirited woman en route who helps open his eyes to life and love. It was a fun film with some funny moments with a good cast. Good soundtrack to!
½
The path to true love gets rocky in this engaging and occasionally wild tale - outragous and warmhearted funny. Ben Affleck and Sandra Bullock are very appealing as the reliable groom-to-be and free-spirited traveller who complement each other's strengths and weaknesses and who learn to offer one another valuable life lessons. The cinematography is unique, inventive, and beautiful! This movie has always given me a better perspective on marriage, love, lust, wondering minds, and people in general. This film's directorial vision is clear and is visually stunning. One good performance came from the late David Strickland (TV series' Suddenly Susan) in his final film role. It was unfortunate to hear about Strickland's death because his role in this film showed the world that he can act well on the big screen.
Dean McKenna
Super Reviewer
Forces of Nature Quotes
There are no approved quotes yet for this movie.
Discussion Forum
Discuss Forces of Nature on our Movie forum!