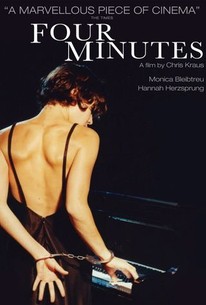 Four Minutes
2006, Drama/Music, 1h 52m
26 Reviews
2,500+ Ratings
What to know
critics consensus
This riveting German drama set in a women's prison has the strong foundation of a solid script and psychologically resonant performances across the board. Read critic reviews
Rate And Review
Movie Info
An elderly woman teaches piano to a young convict in a women's prison to transform her rage.
Audience Reviews for Four Minutes
The next German film sensation after The Lives of Others Touching The story of how a piano teacher has her life changed and changes the life of her student through music. An amazing story, <b> touching, very deep, and emotional </b> turn out great, one of the best german movies ive seen so far. The acting is amazing, the lead actresses incorporate strong characters with strong personality that emits and touches the audience strongly. The directing is fantastic. However there are some scenes and things behind the movie that are very symbolic and therefore hard to understand, but nevertheless its a very touching movie. <u> Jenny Von Loben </u> : <i> Sorry </i>

A little slow at times, but all in all a really good movie. The girl the movie is based around is really psychotic, but amazingly talented. I feel so sorry for her in the way that her life turned out. This movie had a really awesome ending. I felt like standing up and cheering for her myself

Underrated and unseen, Vier Minuten is one of the best german movies released in the past decade. It portrays the violence of a woman in a penitentiary who has the gift of being a musician, and is presenting this gift in a rage and violence never seen before on her instrument. An elderly teacher tries to calm her down, Shumann's way, and ultimately fails doing so. This will result in one of the most brutal and genius 4 minutes of music that cinema ever offered us. It's very well directed, and the unease feeling is always there throughout the film. Drags a little in its last third but stays nonetheless a good foreign piece of art.

In "Four Minutes," Traude(Monica Bleibtreu) volunteers her services as a piano teacher at the same prison where she worked as a nurse during World War II. Despite the warden's(Stefan Kurt) help, there is little promise in the inmates who show up for lessons except for Jenny(Hannah Herzsprung), a one-time prodigy who was sexually abused by her adoptive father. However, Traude wants nothing to do with her due to her sore arms. As a result, Jenny flies into a fit of rage, knocking a guard(Sven Pippig) unconscious. Traude has second thoughts, deciding to give Jenny lessons but only if she plays by her rules. In return, Jenny gets to prove that she can play the piano with one arm tied behind her back. Wait, make that two... "Four Minutes" is an engaging drama about why it is never a good idea to force somebody to fit to your expectations, even if you think it is for their own good. The movie succeeds by restraint, instead of drowning in sentimentality, even with a contest on the horizon. Part of this comes from having two lead characters who are not in the least huggable and are both afraid of letting down barriers. With her imperious manner, Traude lives in the past, both through remembrance and the classical music she favors, using a derogatory term for the rock music Jenny likes. In return, Jenny is constantly fighting for the kind of life she wants to lead. Due to the conflict against outside forces, she has a way of lashing out which is not socially acceptable.
See Details