Free Fire
(2017)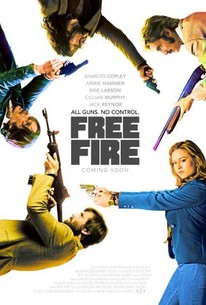 TOMATOMETER
AUDIENCE SCORE
Critic Consensus: Free Fire aims squarely for genre thrills, and hits its target repeatedly and with great gusto -- albeit with something less than pure cinematic grace.
Movie Info
Bold, breathless and wickedly fun, Free Fire is an electrifying action comedy about an arms deal that goes spectacularly and explosively wrong. Acclaimed filmmaker Ben Wheatley (Kill List, High Rise) propels the audience head-on into quite possibly the most epic shootout ever seen on film as he crafts a spectacular parody -- and biting critique -- of the insanity of gun violence. Everyone's got a gun, and absolutely no one is in control. Set in a colorful yet gritty 1970s Boston, Free Fire opens with Justine (Oscar (R) winner Brie Larson), a mysterious American businesswoman, and her wise-cracking associate Ord (Armie Hammer) arranging a black-market weapons deal in a deserted warehouse between IRA arms buyer Chris (Cillian Murphy) and shifty South African gun runner Vernon (Sharlto Copley). What starts as a polite if uneasy exchange soon goes south when tensions escalate and shots are fired, quickly leading to a full-on Battle Royale where it's every man (and woman) for themselves. Packed with witty one-liners, flamboyant characters and remarkable feats of cinematic gunplay, Free Fire is a full-throttle action extravaganza that keeps things fresh and fun with Wheatley's alternately buoyant and savage sense of humor. Swinging from the madcap to the macabre and back again, the film is an exhilarating experience that will leave you quite literally blown away
News & Interviews for Free Fire
Critic Reviews for Free Fire
Audience Reviews for Free Fire
Free fire is a surprisingly successful dark action comedy. The whole movie is a sort of self-aware action film joke that seems to be equal parts nostalgia and parody of the genre. The characters are a ragtag group of deplorable outlaws who go out of their way to oversell their dominate personality trait be it smarmy, smug, dimwitted or hot-tempered. The entire film is sort of like watching Alec Baldwin and William Shatner engaging in an overacting contest, and I cannot stop reveling in that madness. There are a lot of hits and misses in the dialogue, but some of the hits were just excellent. I particularly enjoyed Armie Hammer and Jack Reynor's over the top characters. I found, sadly, Brie Larson to be one of the weaker points of the film. I think she either did not embrace the insanity enough or did not hold back enough. If her character was supposed to be the dramatic center, it fell a little short, and she was also not as engagingly silly as most of the rest of the cast. The action is interesting and absurd. For a group of arms traders, these people are the worst shots in cinematic history - even storm troopers might fare better. The wry dialogue and what I can only describe as "gentlemanly onslaught" of violence is interesting to watch. The choice of the 1970s set also worked very well. The clownish suits and style choices added to the overall bombastic fun of the film. The weaker part of the movie is that this whistling aimless shot-em-up does drag a bit by the third act. The film emulates, in many ways, a Tarantino flick, but lacks the suspenseful dialogue and magnetic characters that allows Tarantino to seamlessly weave between brutal action and tense lively dialogue. The suspense building here does not come to that masterful level so the shtick of the film gets overplayed. All-in-all a worthwhile, thoroughly adult, action comedy. A fun foray into pure spectacle.
Shane Sackman
Super Reviewer
Films revolving around one location throughout its entire run time have always been hit or miss for me. Films like 127 Hours that work unique visuals in, in order to tell the story, are remarkable, but films like Free Fire just don't have enough substance to sustain its 90 minute run time. Personally, this film would have worked as great action-packed short film that stuffed everything into about 20 minutes. Although directed with class and performed magnificently by a devoted cast all around, it really comes down to keeping your audience engaged, and while I was, it very quickly became repetitive as the film progressed. Free Fire is quite fun for a while, until it becomes slightly tiresome. Here are my thoughts on this average, yet entertaining shoot-em'-up flick. Plain and simple, Free Fire follows two groups of men (along with one woman) as an arms deal is about to go down. Beginning with a simple misunderstanding, toppled with grudges between certain characters, an all-out gun fight occurs, pretty much lasting the full 90 minutes. Not taken too seriously, this film tries to be comedic at times, but sometimes that aspect falls flat, due to the fact that the hilarity dies out and it starts to take itself a little too seriously, dealing with some pretty dramatic and graphic scenery. This fun and simplistic premise works for the most part, but the action does become repetitive, making for a bit of a bore in the second act. There are quite a few moments when the film slows down in order to service characters that have yet to be developed, but those moments don't last long at all. Each and every time the film decided to slow itself down, I was hoping for some flashbacks for some of the core characters, which would in turn make me care about who lives and who dies. Having not received that, I found myself realizing that wasn't their intention in the first place. This is a film that is meant to just make you sit back, relax, and see who lives and who dies, without consequence. Could this film have been improved by adding a few other locations and character backstory? Yes, but that didn't seem to be the intention. Walking out of this film, the biggest positive I find myself commending this film on, is its cast and their interaction with one another. I believed every second of their interaction. Every word coming out of their mouths were either meant for comedic effect or to move the story alone, due to the small nature of the story. I loved the casting choices for everyone involved with this film, and the final product serves as a nice little comedic showcase for most of these talented performers. What is disappointing is the fact that this film is not being seen by enough moviegoers, once again proving that not every original premise can be successful. In the end, I found myself quite enjoying the set-up for this film and the shootout itself is pretty fun to watch, but after about 30 minutes, it does seem to feel slightly repetitive. The cast works great together and the violence is definitely effective when it needs to be, but the main flaw is that I honestly couldn't tell if I was supposed to be laughing or mourning throughout certain moments. Free Fire definitely has impressive aspects and I can recommend it to action junkies or films stylized like Reservoir Dogs, but audiences members outside of that demographic may be turned off quite a bit. In the end, this is just another average action flick with a few above average sequences. I enjoyed it for the most part, but it barely warrants a recommendation as a whole.
Considering director Ben Wheatley's last two feature films have been ambitious cerebral pieces, "Free Fire" is a stripped bare action flick with a simple setup and payoff. While keeping the 70's period design and ditching the deeper subtexts of "High-Rise", the film continues Wheatley's penchant for destroying his set as the story progresses. In a weapons deal gone awry, a memorable cast shoot at each other for the majority of the film. There are quips, cliché dialogue, bits of gore, and an overwhelming sense of nihilism. It is no surprise that Martin Scorsese was an executive producer on this, and Wheatley has stated his love for "Taxi Driver" among others in the icon's filmography. However, the film is so steeped in its influences that it borders on parody at times. What outweighs the dearth of innovation is the keen sense of spatial relation in the production design, sound, and editing. Technically speaking, for a chaotic shootout in a messy warehouse there is little confusion about where you are, who is shooting, and why. People get maimed; guns get reloaded. The first act firmly sets up the characters without over expositing, and the rest of the film rewards the viewer for their attentiveness. My biggest surprise was that there wasn't much food for thought. One could make the case that in a desperate society with a well-armed populace, taking a bullet is inevitable - I doubt that was the impetus for making though. It's hardly a timeless film, but as a solid action flick in wide release "Free Fire" will hopefully garner enough returns for Wheatley to proliferate his higher minded pursuits in the future.
K Nife Churchkey
Super Reviewer
Free Fire Quotes
There are no approved quotes yet for this movie.
Discussion Forum
Discuss Free Fire on our Movie forum!