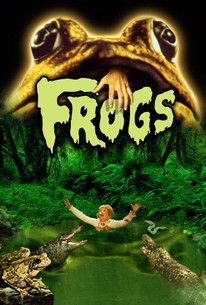 Frogs
1972, Horror, 1h 31m
17 Reviews
5,000+ Ratings
Where to watch
Rent/buy
Rent/buy
Rate And Review
Movie Info
Unsurprisingly, grumpy Southern chemical baron Jason Crockett (Ray Milland) is not terribly concerned with the environment. When Pickett Smith (Sam Elliott), a wildlife photographer in the area, stumbles upon the snakebitten corpse of Crockett's gardener, who was sent out to spray pesticide, he knows something is amiss. Smith attempts to warn Crockett and his family to postpone their Fourth of July celebrations as local animals begin behaving strangely, but Crockett stubbornly refuses.
Rating: PG

Genre: Horror

Original Language: English

Director: George McCowan

Producer: George Edwards, Peter Thomas

Release Date (Theaters): wide

Release Date (Streaming):

Runtime:

Distributor: MGM Home Entertainment, American International Pictures
Audience Reviews for Frogs
There is an inordinate lack of tension in "Frogs" when you consider that it's labeled as a horror film. Of course, this probably stems from the fact that the director, George McCowan, doesn't seem to understand the genre or how to accomplish anything in an effective manner. From a viewer's standpoint, it's apparent that the characters are deranged lunatics that are imagining that nature is out to get them when, really, nature is just living as it always has. The characters are all responsible for their own deaths. They either freak out during times that don't call for it and end up drowning or asphyxiating themselves due to their own stupidity or they basically walk into situations that only a mentally-ill person would find okay. Throughout the entire film, not one frog or gator or snake causes a character's death. And hello? How on earth can a frog kill a person? The answer is that it can't. The characters wander into awful scenarios that could have been avoided, die and then the frogs happen upon them. "Frogs" is an excellent example of how not to make a film. The script is unfathomably stupid, the acting is off-the-walls horrendous and, as stated before, the direction is so ineffective that it's insane. This movie really is one slow, dull, horrible mess.

It's a movie that features killer frogs. Frogs! What did you expect?

More often than not, there are several obscured horror gems that have been long since forgotten and in the case of Frogs, that's very much the case. There has been several movies featuring killer creatures and it spawned an entire genre of horror commonly known as Nature gone wild. As cheesy as this film is, there is a tense atmosphere that lingers over the movie and it adds to the tone of the movie. Acting wise there are no standout performances, but the cast do a good job with a decent script. This is the type of film that is designed for pure mindless fun and in that respect, it does that very well. The film is flawed, but is pure fun from start to finish. If you love low budget horror flicks, then this is a must see movie. The plot is ridiculous, however it works due to the fact that these genre films tend to display in deadly ways that is sure to peak the interest of the viewer. Killer frogs, you ask? Well, how entertaining can it be or how amusing can a film like this be. The answer is, quite entertaining, if you're in the mood for some cheesy killer creature entertainment. One of the film's highpoints is the dark, ominous score by Les Baxter. Frogs is so bad it's good entertainment that should be seen by horror enthusiasts. If you're in the mood for a silly good time, give Frogs a viewing as it is among the most original killer creature films I've seen. Be warned however, this is not a film that will win any awards, but is sure going to entertain you if you enjoy these types of films. With a chilling atmosphere, Frogs is one of the most underrated films in the nature gone wild genre and it should be rediscovered by horror fans simply for its camp value.

Ok. Yeah, this one is bad, but it has some things going for it. For one, it has Ray Milland and Sam Elliott in it. Second, it has a sexy young Joan Van Ark wearing tight clothes and bikinis. Third, it has an animated frog at the end of the movie swallowing a person with a comic *gulp* sound (which is the reason to see the movie, in my opinion). So the movie's got a lot of comic value, as do most of American International's movies, but this one is slightly more enjoyable than the rest. Most are just unwatchable piles of crap. This one passes as watchable without being great.
See Details