FUBAR
(2002)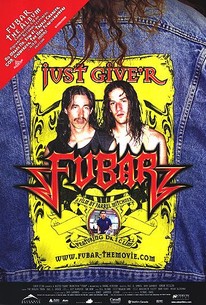 Movie Info
Two young men ponder life, death, cheap beer, and the guitar stylings of Angus Young in this mock-documentary-comedy. Dean (Paul Spence) and Terry (Dave Lawrence) are a pair of Canadian metalheads who have devoted their lives to the manly arts of drinking beer, appreciating the finer points of heavy metal, and breaking stuff. Filmmaker Farrell (Gordon Skilling) has been trailing the pair with a camera crew in order to produce a documentary on their lives, and while initially there isn't much about Dean and Terry's existence that seems at all interesting, it looks like he may have hit pay dirt when Dean discovers he has cancer, and a possible tragic death looms on the horizon. FUBAR was the first feature film from writer and director Michael Dowse; the film was screened in competition at the 2002 Sundance Film Festival.
Audience Reviews for FUBAR
Fubar is a mockumentary type film about the headbagin subculture of Calgary, Alberta. We are introduced to two metalheads, Terry and Dean as the primary subjects of this documentary. We are shown such traditions as shotgunning beer like a man and listening to the healing power of heavy metal music. Fubar is a cult classic of Canadian cinema, and as many reviewers have pointed out, this is the best mockumentary since This Is Spinal Tap, and it is. Fubar is hilarious from start to finish, and it amazes me how they were able to pull that many laughs out of a simple idea. Fubar won''t appeal to everyone, only the metalheads and hardcore beer drinkers will enjoy this film. Documentary film maker Farrell Miictchner documents the exploits of Terry and Dean and the banger subculture in general, what we get is a lesson in drinking beer like a man and how a close nit friendship can save another friend from testicular cancer. I've basically summarized the story, and thats all it is really. But it's interesting how they were able to pull out so many laugh out loud moments with a few simple ideas like that. Fubar has all the cliches of the headbanging subculture and if you love heavy metal music, then you'll love Fubar. If you're easily offended by vulgarities, then I would skip it if I were you. But if you love mockumentaries, then give'r and give Fubar a viewing. Just remember that everything you see here is to make you laugh hard, so let loose, shotgun a beer, and watch Terry and Deaner give you a life lesson in the heavy metal lane.
Very funny look at 2 Canadian headbangers. FUBAR!
Christopher Brown
Super Reviewer
FUBAR Quotes
| | |
| --- | --- |
| Terry: | you push it threw and it rips it in half |
| Terry: | You push her through and it rips it in half. |