Futurama: Into the Wild Green Yonder
(2009)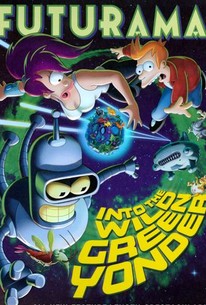 AUDIENCE SCORE
Critic Consensus: No consensus yet.
Futurama: Into the Wild Green Yonder Photos
Movie Info
In this feature-length Futurama adventure, dark forces older than time itself conspire to prevent the dawn of a glorious new green age as Bender falls for a married fembot, Leela attempts to escape Zapp Brannigan, and Fry is recruited for a top-secret mission to try and save the entire universe.
Critic Reviews for Futurama: Into the Wild Green Yonder
All Critics (3) | Fresh (2) | Rotten (1) | DVD (5)
Even with elbow room to spare, the series' linchpin saga will still leave you wanting more... of the Futurama of old.
Groening's notoriously prickly fanbase may well overlook the inclusion of nearly the entire extended universe of Futurama characters and focus on the negative: the warmed-over story and jokes. [Blu-ray]
Audience Reviews for Futurama: Into the Wild Green Yonder
Peter Avanzino's Futurama: Into the Wild Green Yonder goes for a wild ride.
The storytelling is tight for the entire 80+ minutes. Each of the major characters share the screen time equally with their own developed subplots that all intertwine when needed. There isn't a lot of time utilized on new characters and much of the story takes place in space; an environment fit for an animated science fiction story.
The jokes and comedic antics work their magic, although not a 100% of the time. There always seems to be hits and misses, but all's well that ends well here.
Billy West, Katey Sagal, and John DiMaggio are present to lend their voices. Does it really matter who else is in here? Not really, but there are some guest appearances.
Futurama: Into the Wild Green Yonder has mini golf. Enough said.
½
A descent bridge for the new series that started in Comedy Central
James Alvarez
Super Reviewer
½
None of the Futurama movies are equal to the outstanding quality of the best episodes of the original four seasons, but the last two (Bender's Game and Into the Wild Green Yonder) are a lot better than the first two movies. It's like the writers have gotten back into the Futurama groove, and it pays off. Into the Wild Green Yonder is quite funny at times, and the story is just zany enough to have that Futurama flavor. A few moments of random humor felt a little too close to what Family Guy usually does, but overall I felt satisfied as a Futurama fan.
Futurama: Into the Wild Green Yonder Quotes
There are no approved quotes yet for this movie.