Game Night
(2018)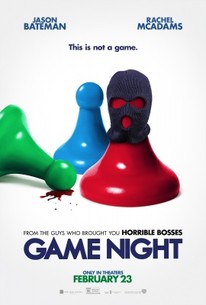 TOMATOMETER
AUDIENCE SCORE
Critic Consensus: With a talented cast turned loose on a loaded premise -- and a sharp script loaded with dark comedy and unexpected twists -- Game Night might be more fun than the real thing.
Movie Info
Bateman and McAdams star as Max and Annie, whose weekly couples game night gets kicked up a notch when Max's charismatic brother, Brooks (Chandler), arranges a murder mystery party, complete with fake thugs and faux federal agents. So when Brooks gets kidnapped, it's all part of the game--right? But as the six uber-competitive gamers set out to solve the case and win, they begin to discover that neither this game--nor Brooks--are what they seem to be. Over the course of one chaotic night, the friends find themselves increasingly in over their heads as each twist leads to another unexpected turn. With no rules, no points, and no idea who all the players are, this could turn out to be the most fun they've ever had... or game over.
News & Interviews for Game Night
Critic Reviews for Game Night
Audience Reviews for Game Night
NOT SORRY! - My Review of GAME NIGHT (3 Stars) Sometimes a low stakes, ultimately forgettable movie hits you in the sweet spot and makes for a cute, fun night out, and nothing more. This perfectly describes my reaction to GAME NIGHT from writer Mark Perez and directors John Francis Daley and Jonathan Goldstein. It's a high concept comedy that remembers to be funny all the way through, is populated by fun, but not terribly deep characters, and proves a successful mix of wildly varying tones. Max and Annie (Jason Bateman and Rachel McAdams) live in suburbia, but have fallen into a bit of a rut. They host a game night for their closest friends when things get kicked up a notch when Max's brother Brooks (Kyle Chandler) comes to visit. To make things more exciting, he hosts a game night which revolves around a murder mystery they must solve. Things take a dark turn when real thugs get involved, leading to a kidnapping, shots fired, real blood...and suddenly their evening of fun turns into a life or death situation. In the spirit of such 80s all-in-one-evening movies as INTO THE NIGHT and AFTER HOURS, our cast wanders around trying to decipher what's real and what's not. Luckily, the cast, which also includes Billy Magnussen, Sharon Horgan Lamorne Morris (NEW GIRL), and Kylie Bunbury, keeps things fun and light even when the violence turns visceral. It's a tonal achievement reminiscent of the adrenaline shot scene in PULP FICTION, where I wasn't sure whether to laugh or puke, but either way, I enjoyed the experience. Adding a lot to the proceedings comes Jesse Plemons as the odd next door neighbor Gary, a police officer who used to attend game night with his ex-wfie, but has now found himself cast aside. He plays such an indelible creep, stroking his dog while giving a great death stare to his former friends. Between this and his stellar performance in BLACK MIRROR, Plemons has started out 2018 in a fantastic way. With his impressive range, he fills the Phillip Seymour Hoffman void so well. I look forward to watching his career blossom. Despite this being a fairly weightless comedy caper, Bateman and particularly McAdams have such a winning rapport. Is there another female actor alive as adorable as McAdams? Remember, she even made uber-villain Regina George from MEAN GIRLS into someone hilariously compelling. The two of them embody neurotic confusion so well, making them enormously root-able. Magnussen, however, nearly walks away with the whole movie, building on his scene-stealing work in such films as INGRID GOES WEST and INTO THE WOODS. His buffoon, ladykiller Ryan here makes you sit up straight and wonder what idiotic thing he'll say next. He's a ton of fun and someone to watch. I enjoyed the time the filmmakers have taken with such set pieces as the initial home invasion or the downright hilarious conveyer belt scene, which contains the single best payoff in the movie. In fact, GAME NIGHT feels much more cinematic than it has a right to be, with the directors really finding a visual path through the shenanigans. Movies like these got made a lot in the 80s. GAME NIGHT reminded me of RISKY BUSINESS in its ability to find moments where sound and cinematography mattered. Still, it's pretty disposable stuff. It's funny and smart...but, much like spending an evening playing RISK, it's not getting remembered in the morning.
Glenn Gaylord
Super Reviewer
Good comedies are extremely hard to come by these days. For every great one, there seem to be roughly 20 terrible ones. That's not a great track record to have, but in all fairness, the great ones feel like such a breath of fresh air when they hit theatres and are talked about positively in the public eye. So, I think you can see where I'm going with this. Game Night is one of the best comedies I've seen in quite some time. It doesn't break new grounds in terms of humor, but when a movie can hold your interest and keep you engaged even when there's no comedy in a specific moment, it's doing something right. It's rare for me to say this, but I think you'll be hard-pressed to assume that you'll see a better mainstream comedy in the coming months of 2018. If you're looking for an entertaining ride at the movies, here's why I think you should check out Game Night. Following a group of friends who gather together for a night of board games and charades once a week, they're in a state of shock when an old friend and brother of one of them shows up to play. Giving them an invitation to his place to continue their tradition elsewhere, a murder mystery night turns into a night of twists on top of twists. Are people actually being murdered? Are the double-crossers really double-crossing? These are questions that constantly come up throughout this movie and that's precisely what made it such a good movie as a whole. I loved the fact that it didn't try to come up with stupid jokes as filler. The comedy in Game Night is terrific and very well-written. I found myself laughing both at the humor itself and how writer Mark Perez was able to callback certain moments and extend jokes to make them even funnier as the film progressed. On top of that, this movie is filled with twists on top of twists. Some of them are played for gags and others for either drama or character development. Quite honestly, this is a film that I didn't expect to be as well-written as it was, due to his previous works. Having written movies like Accepted and Herbie Fully Loaded, I was worried that many of the jokes were going to feel juvenile or fall flat on their face, but I was dead wrong. Just goes to show that you can't even truly judge a movie by its trailer anymore, no matter how good or bad it looks. I can't believe I'm going to say this about a silly premise like this, but not only does this movie have a great script in terms of comedy and drama, but this is a unique film from a visual standpoint. Whether they make the town look like a board game or use the camera as a character, Game Night is a very well-shot movie. The way this movie transitions from scene to scene or how it makes you feel like you're watching/playing an elaborate game yourself was very inventive. In the end, I honestly can't think of any glaring issues, other than the fact that many cliched tropes are used in order to make certain plot devices easy to accomplish. Yes, there are a few easy ways out that are taken here, which can definitely lead to some eye-rolling moments from audiences, but that's to be expected for a comedy like this. From the fun premise to the well-executed story overall, and the addition of hilarious gags and surprisingly emotional moments, Game Night is a complete blast. This is the definition of popcorn entertainment that really works. Even though it's not perfect, it's perfect for what it sets out to accomplish, which is to keep its audience engaged.
½
This movie is surprisingly funny, surprisingly clever, and surprisingly comes together very well. It has a perfect balance of slapstick, witty banter, plot intrigue, and emotional sentiments. Every character is interesting and funny and develops really well throughout the film. This is one of the best comedies I've seen in recent memory.
Sanjay Rema
Super Reviewer
Game Night Quotes
There are no approved quotes yet for this movie.