Daikaijû Gamera (The Giant Monster Gamera)
(1965)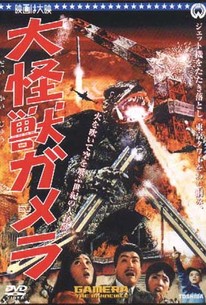 Movie Info
The first entry of this Sci-Fi epic takes place midst the peak of the Cold War, as conflict between the East and West transforms into a nuclear disaster! This atomic explosion releases more than massive radiation, it awakens an ancient and long-forgotten legend of - Gamera!
Critic Reviews for Daikaijû Gamera (The Giant Monster Gamera)
Audience Reviews for Daikaijû Gamera (The Giant Monster Gamera)
½
One thing Gamera has accomplished is to create one of the most obnoxious characters in the history of cinema: Kenny, a dumb brat who does retarded things and got people killed with any forms of punishment.
Sylvester Kuo
Super Reviewer
½
When it comes to monster movies you just can't do any better than King Kong and Godzilla. What makes the first entry in the Gamera series a failure is that it borrows from Godzilla and anything original in the movie is not interesting and lacks entertainment. From out of the arctic comes a gigantic flying, fire-breathing turtle that sets its sights on destroying Tokyo. Now the main thing that bothered me besides the dubbing, especially for Kevin (one of the main character), was that is had Americans. Americans in a Japanese monsters movie? I'm not trying to be racist, but it just that our involvement isn't really required in this movie, I mean these are the same people that killed Godzilla. As the movie progress you'll questioned that you've seen it before, you have. The movie best moments are copied from Godzilla. One thing that bothers me is that the characters that see Gamera just go on TV with a ancient rock and say Gamera is real, and people believe them. The reason it's a problem is that in Godzilla the people got evidence to prove Godzilla was real, right here the character just say they saw it and are believed. Now time to talk about the ridiculous Turtle monster himself, Gamera. I'm not going to complain how the costume obviously looks fakes, but I will say it doesn't looks as good as Godzilla. For some reason this Turtle monster can breath fire, eat fire, and can fly with a rocket power shell. I don't get it, just like how in one scene it almost looks like he's dancing a little. Gamera only good moment is when he gets to destroy Tokyo, unfortunately the human characters have to kill that fun whenever they interrupt. Gamera as a monster just doesn't look menacing, even the citizens in one scene laugh at the idea of running away from a giant Turtle Gamera just doesn't have any good original ideas and the only good moments from the movie are ripped-off from Godzilla. Gamera isn't the worst movie monster movie i've seen in a movie, so I give it some points for actually trying to compete with Godzilla and making me laugh unintentionally. It might fails making a good first impression, but it succeeded in making me like the monster Gamera, whenever humans weren't involve much that is.
Caesar Mendez
Super Reviewer
When it comes to film franchises, it is not unusual for the first film to be the best. This applies to the Godzilla franchise, in which the first film is near universally regarded as the best. In the case of the Gamera franchise, it is quit different. It is one of the few franchises were the later films are better than the first. Gamera's first outing had a generally serious tone, with Gamera portrayed as a villainous monster. The story is pretty much a Gojira knock-off, but lacking the emotional resonance or political subtext. The characters do not really stand-out beyond their archetypes. The biggest thorn in this movies thigh is the little boy named Toshio. From the first moment you meet him, he is annoying. He is dumb and treats everybody around him really badly. It is beyond stupid that Toshio keeps trying to tell the adults that Gamera is innocent even though he is destroying cities and killing innocent people. It seems the movie is not sure whether we are supposed to fear Gamera or sympathize for him. The film tries to be Gojira mixed with a little boys coming-of-age story and it simply does not work. I wished the movie would have cut the irrelevant boy subplot and taken more time to develop the adult characters more. Gamera is really interesting-looking monster, and the movie succeeds in making him look intimidating. The destruction of Tokyo is a pretty good spectacle and the human efforts to stop Gamera is also a little intriguing. Overall, for a Gojira knock-off, this is not too bad but nothing special. It's not as campy as some later entries, nor is it as spectacular.
Christopher Heim
Super Reviewer
Daikaijû Gamera (The Giant Monster Gamera) Quotes
There are no approved quotes yet for this movie.