Gang of Roses
(2003)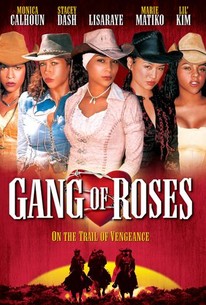 AUDIENCE SCORE
Critic Consensus: No consensus yet.
Movie Info
It's Young Guns meets Set It Off in this hip-hop take on the time-tested revenge Western. In the placid frontier town of Flatridge, sisters Sally (Licia Shearer) and Rachel (Monica Calhoun) live in relative peace -- until a roving gang of gold-diggers tear up the burgh, looking for buried riches. In their wake, one of them kills Sally, much to the consternation of Rachel, who happens to have once been a member of an infamous, all-femme gang known as The Roses. With her sister six feet under the ground and the town going to hell under the rule of the marauding outlaws, Rachel leaves Flatridge to round up her former compadres, Kim (Stacey Dash), Ming Li (Marie Matiko), Chastity (Lil' Kim), and Marie (LisaRaye). The fivesome return to the lawless town to oust the bad guys once and for all. Gang of Roses premiered in limited theatrical release at the Magic Johnson Theater in Los Angeles before making its way to home video.
Critic Reviews for Gang of Roses
There are no critic reviews yet for Gang of Roses. Keep checking Rotten Tomatoes for updates!
Audience Reviews for Gang of Roses
A kind of blingy, over the top MTV style cowgirl flick aimed at a young black audience which again takes the notion used in the brat pack western 'Young Guns'. The cast is includes some popular singers such as Bobby Brown and Lil' kim which does give an indication of what to expect really. The action along with the films look is slightly cheap and basic looking, poor stunts, silly costumes and on the whole generally unrealistic and silly overall. I can't put the film down for this as its clear from the start what the film aims to be, its almost comicbook-like and not to be taken seriously but at the same time the cast do really try their best which does make them look rather daft hehe. Full of your regular western cliches adding nothing new and trying a bit too hard to be a slick action film.
Phil Hubbs
Super Reviewer
GAWD awful. But I should've known better. I already knew what I was gettin' myself into when I read the premise of this movie and I saw who was in it. I love LisaRaye and Stacie Dash. I even listen to Lil' Kim sporadically. But together in this hot mess, and with the out-of-nowhere Mario Van Peebles cameo? What? He enjoyed doing "Posse" so much he just couldn't stay away from westerns? Ugh. And I really knew I was setting myself up for awfulness upon learning during the opening credits that Bobby "Whitney-introduced-me-to-crack" Brown was in it. Just awful all around. Horrid plot, horrid acting, horrid transitions, pointless slow motion scenes, pointless walking scenes, pointless riding scenes, pointless "love" scene, just pointless all around. If you see this film on your channel guide, run the other way!!
Remi Logan
Super Reviewer
An interesting movie. Intriguing story plot.
Gang of Roses Quotes
There are no approved quotes yet for this movie.