Gates of Heaven
(1980)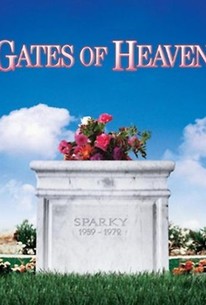 Movie Info
Gates of Heaven is a perversely enjoyable film about the American funeral industry. Oh, wait, we forget to tell you. The services shown herein are pet funerals. Anything can happen in Southern California, but even longtime residents of that cloud-cuckoo land may not be prepared for the unctuousness of the funeral directors and the obsessive grief of the dear departed's loved ones. The film zeroes in on two pet cemeteries: one thriving, one unsuccessful. Wisely, filmmaker Errol Morris does not editorialize, nor does he betray any condescension towards the real-life people seen in Gates of Heaven.
Critic Reviews for Gates of Heaven
Audience Reviews for Gates of Heaven
½
An original documentary that takes aim at a pet cemetery and the day-to-day operations that go on as well as the strange people that run the place. While occasionally boring and irrefutably slow-moving, there is no denying the well-rounded, subtle slam and quiet mocking of these weird, weird people who took their pets' lives way to seriously and need to get back to reality ASAP. What makes this thing worthwhile is the people being filmed, who think this is a totally straight, serious documentary that they are being apart of, not knowing for an instant that the ridiculous things they say and how they act (everybody wants to punch the "motivation" guy, no one will deny that) are going to be turned against them. It sounds rather cruel, but director Errol Morris never cuts in or makes any obvious finger-pointing accusations or is seen laughing behind the camera - he lets the people do the talking, and the result is something both at times uproarious while at other times just very, very sad. Definitely a unique film, one that does tend to plod along, but it is still worth a view just due to Morris's ability to dig out all the weirdness from a piece of California.
Dan Schultz
Super Reviewer
I don't get what the hype is all about. I found the story about the making of the documentary WAY more interesting than the documentary itself.
Ken Stachnik
Super Reviewer
In a world where it seems like more people are attracted to the documentaries of Davis Guggenheim, Errol Morris is constantly a breath of fresh air. His subjects tell the stories. His camera captures only what is necessary and he films eccentric characters without appearing as though he is looking down on them. In other hands, this movie could have become a cult classic in which the subjects are mocked for their beliefs. Morris' tender care of these subjects will mean that it will leave some viewers confused, not knowing when to laugh or not laugh. Morris doesn't make any judgements, he leaves them up to the viewer. It is interesting, kind-hearted, well shot, and even though it has it's share of slow moments, it is an incredibly well made and structured documentary. I don't like being told a story (i'm looking at you Davis), I like being a part of a story.Great Film
Gates of Heaven Quotes
There are no approved quotes yet for this movie.