Gemini (Sôseiji)
(1999)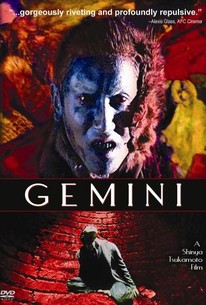 AUDIENCE SCORE
Critic Consensus: No consensus yet.
Movie Info
Shinya Tsukamoto's latest work is a bit of a departure for the director of such over-the-top cult films as Tetsuo: Iron Man (1989). Though punctuated by his trademark kinetic camera work, this moody gothic horror film has the sort of brittle formalism more common in Japanese domestic dramas of the 1940s and 1950s. Dr. Yukio Daitokuji (Masahiro Motoki) is a well-to-do doctor living in a wealthy neighborhood located near a shantytown. He lives in a gorgeous old house along with his father, mother, and beautiful young wife Rin (Ryo). The couple seems happy, but Rin's lack of a past, due to amnesia, is a source of anxiety for the socially conscious doctor. The rigid respectability of the couple's upstanding bourgeois life shatters when a bizarre rag-wearing man kills off Daitokuji's parents in sudden and gruesome manners. The terror gets ratcheted up a notch when the mysterious assailant throws Daitokuji into a deep well on the family grounds and then reveals himself to be physically identical to the young doctor. The stranger assumes Daitokuji's identity by making passionate love with his wife and threatening to kill his patients. Tsukamoto brilliantly juxtaposes the oppressive opulence of the upper class, characterized by deathly silences and Kubrick-like compositions, with the grubby, desperate world of the slums, whose residents could have populated The Road Warrior (1981). While Tsukamoto's fascination with revenge, doppelgangers, and male rage, as seen in Tokyo Fist (1995) and Bullet Ballet (1998), are clearly present in this work, it also showcases the director's growing stylistic maturity. This film was screened at the 1999 Toronto Film Festival. ~ Jonathan Crow, Rovi
Critic Reviews for Gemini (Sôseiji)
Audience Reviews for Gemini (Sôseiji)
Another Tsukamoto classic, this time based on an Edogawa Rampo story. As expected, Tsukamoto makes it his own. Creepy, stylish and great.
Christopher Brown
Super Reviewer
Gemini (Sôseiji) Quotes
There are no approved quotes yet for this movie.