Genealogies of a Crime (Généalogies d'un crime)
(1998)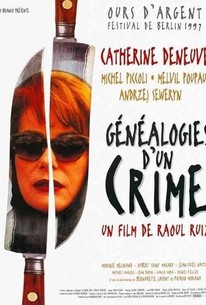 Genealogies of a Crime (Généalogies d'un crime) Photos
Movie Info
This labirynthine mystery begins with a Chinese ghost story in which a man obeys the predictions of fate and murders a girl. She in turn becomes a ghost who returns to avenge her death. Ironically, her killer falls in love with her. The story then jumps to more recent times. A psychiatrist (Catherine Deneuve) takes in her orphaned nephew Rene (Melvil Poupaud). Believing he possesses the personality of a killer, she begins to observe him carefully. A decade passes and the woman is killed. Rene is arrested for the crime. Meanwhile Dr. Georges Didier (Michel Piccoli) claims he saw the crime, which happened during a bizarre group-therapy session that he hosted. But lawyer Solange (Deneuve) isn't convinced of her client Rene's guilt and so begins an investigation of Didier's group. At the same time, she and Rene begin playing head games with each other.
Critic Reviews for Genealogies of a Crime (Généalogies d'un crime)
All Critics (5) | Fresh (4) | Rotten (1)
I found the film's mystery strangely compelling, no doubt helped by Deneuve's radiant presence.
Elegantly creepy one minute and cheerfully absurdist the next, Genealogies of a Crime is lively and inventive, suggesting that there is more going on here than meets the eye.
Audience Reviews
There are no featured reviews for Genealogies of a Crime (Généalogies d'un crime) at this time.
Genealogies of a Crime (Généalogies d'un crime) Quotes
There are no approved quotes yet for this movie.