Ghost in the Shell
(2017)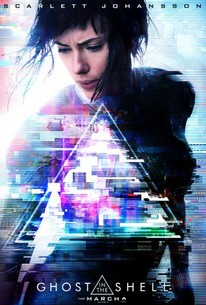 TOMATOMETER
AUDIENCE SCORE
Critic Consensus: Ghost in the Shell boasts cool visuals and a compelling central performance from Scarlett Johansson, but the end result lacks the magic of the movie's classic source material.
Ghost in the Shell Videos
Ghost in the Shell Photos
Movie Info
In the near future, Major (Scarlett Johansson) is the first of her kind: A human saved from a terrible crash, who is cyber-enhanced to be a perfect soldier devoted to stopping the world's most dangerous criminals. When terrorism reaches a new level that includes the ability to hack into people's minds and control them, Major is uniquely qualified to stop it. As she prepares to face a new enemy, Major discovers that she has been lied to: her life was not saved, it was stolen. She will stop at nothing to recover her past, find out who did this to her and stop them before they do it to others. Based on the internationally acclaimed Japanese Manga, "The Ghost in the Shell."
News & Interviews for Ghost in the Shell
Critic Reviews for Ghost in the Shell
Audience Reviews for Ghost in the Shell
½
Rupert Sanders delivers a shell with no ghost in Ghost in the Shell. Downloading in at 100 minutes, Ghost in the Shell shelves out a visual display with a story that starts off well, but fizzles down as the film progresses. The complexities of the futuristic science fiction atmosphere and plot details lack sufficient explanation; only enough to get by. The action is limited, which isn't a problem. The film is story driven with pieces of nicely placed action sequences to fill in some time. To top it off, the visuals are worth noting. Scarlett Johansson, along with many other characters, are monotone in nature. A bit of a turnoff, but at the same time, fitting with the plot. As a science fiction picture, not a remake, Ghost in the Shell delivers enough to be a worthwhile watch.
½
Casting controversies and source material aside, GITS works in more ways than it doesn't as its own piece of entertainment. Admittedly the film starts rather poorly with a myriad of bloated, cliche scifi dialogue, characters and things often caught trying too hard to explain itself. Scenes edited into the next without any real semblance of fluidity. However once things pick up momentum it really manages to find itself as an intrapersonal thriller. So much that I was almost surprised the first half of the film was directed by the same person as the second. Eventually we're given a narrative of self discovery layered under a crime procedural that utilizes a lot of high concept sci-fi elements to its advantage. The visuals are given much praise but were more than often a distraction and almost too much at times. If I were not a fan of the GitS franchise all the flash seems arbitrary and should have been used more sparingly for better impact. Sure, it's not the philosophical endeavor of existential debate that was the original animated film; but it's irresponsible and foolish to say that it doesn't retain many of those themes. GitS has seen many reiterations over the years, the manga, the films, the SAC series, the Arise series... each is very different but key elements/themes remain. This 2017 film is just another re-imagining that I was able to enjoy. PS. Adding 0.5 to the rating cause I love this franchise.
Drake Tsui
Super Reviewer
When news broke that Hollywood was going to make a live-action version of the much-beloved 1995 anime Ghost in the Shell, fans were understandably nervous and excited. The original movie was a major hit that crossed over into the mainstream much like Akira, another movie Hollywood has long been trying to bring to life (run away, Jordan Peele!). People got extra worried when they heard that Scarlett Johansson was going to play the main character and cries of "whitewashing" were hurled across the chasm of the Interwebs. The "white washing" charge, which in context is possibly misapplied, might have been the smaller worry. The 2017 Ghost in the Shell remake is missing just about everything that made the original a standout. It's a ghost, if you will, of its former, superior self. In a cyberpunk future, Major (Scarlett Johansson) is an android fighter working for a special operations group tasked with taking down cyber criminals. The Major was injured in a terrorist attack and her brain was placed in a robotic shell (looking like ScarJo is one of the upgrade features). Every so often she gets hallucinations of events she cannot recall. After an encounter with the hacker criminal Kuze (Michael Pitt), a fellow android, she begins to doubt the true intentions of her superiors and what they have told her. If you're a fan of the original Ghost in the Shell, you might be depressed from what the live-action Hollywood adaptation does to its noteworthy source material. If you've never seen the anime, then you might find some scraps of entertainment to be had in what is essentially a drizzly cyberpunk product dumbed down for the largest mass audience that would be adrift with any minor hint of ambiguity. The 2017 Ghost in the Shell is not a good movie and it's an even worse Ghost in the Shell movie. First off, we don't need live-action versions of superior animated films just to have them, and this same statement goes for the equally underwhelming Beauty and the Beast remake. Just because a film lacks "real people" does not mean it is missing some crucial element, and I bristle at the notion that animated films are somehow inherently inferior or not "real movies." With that being said, Ghost in the Shell will invariably disappoint fans of the original anime. There are visual signifiers and shots that it mimics with fealty; it's just the overall story, characters, narrative complexity and mystery, and everything else that lacks that same level of fealty. Who cares if the main character is a shell of herself because, hey, they recreated this one shot fairly accurately, and that's why we go to the movies, right? Whereas the original was thoughtful and trusted the intelligence of an audience, the 2017 Ghost in the Shell resorts to explaining everything all the time, and even that it does badly. This is a muddled and frequently incoherent plotline, and the magnitude of its ineptitude is even higher considering how stupidly obvious the screenwriters make every twist and turn. This is the most obvious, simplistic conspiracy you could possible write. When Major wakes up in the opening scene and is being told what happened, the audience should already be alert with suspicion. This secret conspiracy goes in the most obvious direction (the good guys might not be the good guys after all) in a manner that should be transparently obvious to anyone except those unfortunate souls who have never seen another movie before in their lifetimes. So much of the plot is the untangling of this mystery, the Major's real back-story, who the true villains are. To make it as obvious as possible and still devote so much time is not a good decision. The movie is constantly tagging characters to explain all exposition, leaving no subtleties to chance. The sadder part is that the plot is still muddled for long stretches even with all this handholding to straighten things out for the neediest. The world building and themes are kept at a distance, further denying the movie depth and substance. With any science fiction world, let alone one borrowed from other famous cinematic influences, it's important for the viewer to get a sense of how the world operates. This can be done with small moments and larger moments, enough to properly contextualize this brave new world. With Ghost in the Shell, we're told that mankind has become increasingly intertwined with machines and that cybernetic enhancements are en vogue. Except we never see this in the outside. We see loads of floating hologram advertisements, an overblown visual motif, but outside of our three main characters, this aspect that they felt merited inclusion in text before the movie gets underway is weirdly absent. It makes the characters feel less like they belong in an environment that makes sense. The larger themes of self-identity, the nature of humanity, and the questions over body autonomy are glossed over with the faintest of observations. Major is discovering her identity, but it leads her to what may be the most tired of conclusions. You would think having a robotic body would create some sort of existential reflection. You would be mistaken. Sure, Major feels unsure of herself and out of place, though why should she since we're told man-robot hybrids are all the rage in this vague future landscape. I'm surprised someone didn't just start explaining what the title meant at any given point. The movie feels entirely surface-level and that's where it has one redeeming value - its visual presentation. Director Rupert Sanders (Snow White and the Huntsman) is an above average visual stylist who benefits from strong production design and cinematography. At least the visual aesthetics could keep my attention, even if part of that attention was occupied in playing a compare-and-contrast game with certain scenes. The special effects are suitable and stylish enough, borrowing more than a few elements from the original. The action sequences are relatively muted, occurring in bursts but never really developing further. There's an initial attack, then a response, and sometimes a chase, but that's about it. The tech also doesn't seem to factor in the combat. The strike team has the ability to communicate telepathically, but if they can do this why would they ever turn off this secret channel? It's also lazy as it means we can just focus on filming scenes and record whatever dialogue we need later, as if the screenplay was incomplete. The 2017 Ghost in the Shell live-action version is a disappointing cyberpunk thriller that pays lip service to its source material, copying the movements but losing sense of the substance and soul. I'd advise people to merely watch the 1995 anime instead or the TV series that followed. It all feels like an expensive, slick, yet peculiarly ramshackle production that loses sight of the bigger picture by worrying at every turn whether a mainstream audience is going to need help understanding the most obvious. Johansson can be a great actress, which is important to remind yourself because she goes on kickass heroine autopilot with this movie. The action is short and inadequate, the visuals are impressive albeit derivative to the source material and its myriad influences, and the story has nuance, ambiguity, philosophy, reflection, and general substance replaced with a generic conspiracy structure that renders much uninteresting. The 2017 Ghost in the Shell doesn't quite go to the insulting derisive lows of the Dragonball Z live-action remake, but it's certainly not a good use of anyone's time, and that includes you, the audience. Nate's Grade: C
Nate Zoebl
Super Reviewer
Ghost in the Shell Quotes
There are no approved quotes yet for this movie.
Discussion Forum
Discuss Ghost in the Shell on our Movie forum!