The Ghost Walks
(1934)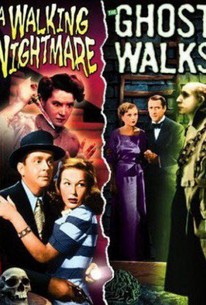 AUDIENCE SCORE
Critic Consensus: No consensus yet.
Movie Info
In the tradition of the classic scare piece Banquo's Chair, The Ghost Walks features one phony spectre and one supposedly real wraith. An actor is hired for a high-society gathering to pose as a ghost. It's all part of a plan by a struggling playwright to stir up interest in his latest production. But just as the "faux" phantom is putting on his sheet, he's scared off by a genuine spook. A murder plot is at the bottom of these weird occurrences, as we discover in reel seven. The Ghost Walks was another one-set wonder from pinchpenny Chesterfield Studios.
Rating:
NR
Genre:
, ,
Directed By:
Written By:
In Theaters:
On DVD:
Runtime:
Studio:
Invincible Pictures
Critic Reviews for The Ghost Walks
There are no critic reviews yet for The Ghost Walks. Keep checking Rotten Tomatoes for updates!
Audience Reviews for The Ghost Walks
½
A supernatural mystery movie, which doesn't go well. I wouldn't recommend seeing this movie it's dull.
Generally average "B" horror movie from the 30's, the cast does well and it has suspense. Entertaining but not particularly memorable.
James Higgins
½
A playwright (Miljan) invites a theatrical producer (Carle) and his fey secretary (Arthur) to join him in the country so they can discuss his latest play. The writer has secretly hired a bunch of actors who will peform the play, essentially hoaxing the producer with a fake murder, hoping he'll be amazed by the play's realism. His plan backfires, however, when one of the actors turns up dead for real and they receive word that a dangerous lunatic has escaped from a nearby asylum. "The Ghost Walks" is a highly entertaining comic mystery that takes the mainstays of the "dark old house" genre that flourished in the early 1930s and mixes it with an Agatha Christie vibe and throws in a "mad doctor" (or maybe just the legend of one?) for good measure. Oh, and these elements are mixed up by several plot twists that will surprise and amuse even the most experienced viewer of films from this period. This is a fine little movie that doesn't deserve the obscurity it has been relegated to. It features a well-paced script filled with great plot twists, snappy dialogue and a brand of comedy that has held up nicely to the passage of time. While the film has plenty of elements that are standard (it's a dark and stormy night, the characters are all trapped in the house with a killer and people keep dying and/or vanishing mysteriously no matter what the survivors try) it's comic relief characters and the overall thrust of the gags are highly unusual for a film from this period. (Basically, instead of the dippy, superstitious black manservant, we have a effeminate secretary to a pompous theatrical agent, both of whom aren't half as smart as they think they are... but the audience has a great time laughing at their expense. And, with the exception of the psychotically PC who can't laugh at anything except rednecks or Christians being lampooned, these comic relief characters and the jokes around them are ones that can be enjoyed today without that unconfortable feeling of racism.) The print of "The Ghost Walks" that I watched was very worn and damaged in many places. All the frames were there, but there was lots of scratches on the film and the image was often very blurry. I suspect that digital video and the DVD format came along just in time to rescue this film from oblivion. Director Frank Strayer was definately one of the most talented people working in independent, low-budget films during the 1930s; I've enjoyed every one of his films, with "The Monster Walks" being the only one I haven't given a Fresh rating to. "The Ghost Walks" is worth checking out if you enjoy lighthearted mysteries, even if you aren't a big fan of early cinema. The Ghost Walks Starring: John Miljan, Richard Carle, Johnny Arthur, Spencer Charters,June Collyer, Donald Kirke, and Eve Southern Director: Frank Strayer
Steve Miller
The Ghost Walks Quotes
There are no approved quotes yet for this movie.