Giallo
(2009)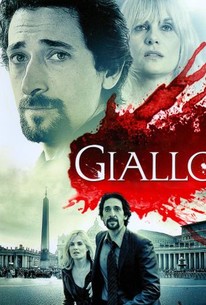 AUDIENCE SCORE
Critic Consensus: No consensus yet.
Movie Info
An English-language throwback to the type of distinctly Italian thriller that earned him the international reputation as "The Italian Hitchcock," Dario Argento's Giallo once again teams the director with producer and younger sibling Claudio Argento to tell the tale of a serial slasher with a penchant for cutting beautiful women. After discovering that her sister has been abducted by a notorious serial killer who operates under the name "Yellow," an American flight attendant enlists the aid of an Italian investigator in seeking out her missing sibling. Asia Argento, Adrien Brody, Emmanuelle Seigner, and Elsa Pataky star in this thriller, penned by screenwriters Jim Agnew and Sean Keller.
Critic Reviews for Giallo
All Critics (1) | Fresh (0) | Rotten (1) | DVD (1)
in making us wonder whether the gross incompetence on display here is his true face or yet another of his masks, Argento may have found himself a new mode of directorial cat-and-mouse.
November 12, 2010
Audience Reviews for Giallo
½
Argento's latest giallo in English is frustratingly conventional and pointless, with actors who are oddly inexpressive and a plot that cannot even justify its existence, while he never displays the directing skills that made him such a respected cult filmmaker in the first place.
Carlos Magalhães
Super Reviewer
½
Dario Argento's latest offering has been absolutely torn to shreds by fans and critics so I wasn't expecting much from this at all but I ended up enjoying it a lot more than others seemed to. The story is fairly straightforward which has a New York FBI agent based in Turino on the trail of a killer who has bern kidnapping and murdering pretty foreign women. It's a pretty violent film with a real vicious streak to it so it racks up a decent amount of bloody content. The film has a good pace and is never boring and always on the move. You can't help but laugh at the killer though with his strong resemblance to John Rambo lol! The films ending was a little anti-climactic unfortunately, it could have gone out with a bit more of a bang or a plot twist. I found this one better than Argento's previous two films, especially The Card Player. It's not great but it still has entertainment value.
Cast: Adrien Brody, Elsa Pataky, Emmanuelle Seigner, Bryon Deidra, Robert Miano, Luis Molteni, Taiyo Yamanouchi Director: Dario Argento Summary: Adrien Brody stars as Insp. Enzo Avolfi, who trails a sadistic serial killer in this thriller from Italian horror master Dario Argento. As the mutilated bodies of beautiful women litter Milan, Avolfi races to find the latest abductee. When Linda (Emmanuelle Seigner) reports her fashion model sister Celine (Elsa Pataky) missing, Avolfi knows the death clock ticks. Now he must step into madness to stop the psychopath (Bryon Deidra). My Thoughts: "Wow, this was kinda, no it was, bad. No thrill, no scare, not even a decent killer. The music was bad too. A bit dramatic when it wasn't needed. The acting...well it just wasn't great either and I was so surprised that Adrien Brody could read this script and come to the conclusion that it was worth his talent. I can just assume he needed the money cause this has to be the worse film I have seen him in. This was a big miss in every way."
♥˩ƳИИ ƜѲѲƉƧ♥
Super Reviewer
Giallo Quotes
There are no approved quotes yet for this movie.