Gigi
(1958)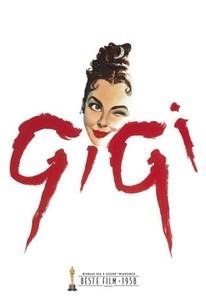 TOMATOMETER
AUDIENCE SCORE
Critic Consensus: It may not be one of Vincente Minnelli's best, but the charming and flawlessly acted Gigi still offers enough visual and musical treats to satisfy.
Movie Info
Leslie Caron plays Gigi, a young girl raised by two veteran Parisian courtesans (Hermione Gingold and Isabel Jeans) to be the mistress of wealthy young Gaston (Louis Jourdan). When Gaston falls in love with Gigi and asks her to be his wife, Jeans is appalled: never has anyone in their family ever stooped to anything so bourgeois as marriage! Weaving in and out of the story is Maurice Chevalier as an aging boulevardier who, years earlier, had been in love with Gingold's character. Chevalier gets most of the best Lerner & Loewe tunes, including Thank Heaven for Little Girls, I'm Glad I'm Not Young Any More, and his matchless duet with Gingold, I Remember it Well. Caron's best number (dubbed by Betty Wand) is The Night They Invented Champagne while Jourdan gets the honor of introducing the title song. Filmed on location in Paris, Gigi won several Oscars, including Best Picture; it also represented the successful American movie comeback of Chevalier, who thanks to this film was "forgiven" for his reputed collaboration with the Nazis during World War II. ~ Hal Erickson, Rovi
Audience Reviews for Gigi
Director Vincente Minnelli fills the screen with so much color and pageantry, the eyes can barely contain it all. There's a magnificence to the presentation that seems to have spared no expense in recreating the French fashions. Cecil Beaton's production design, costumes and scenery is the ultimate. It is sumptuous. There's such an old fashioned grandeur that relies so heavily on sets and wardrobe that it is kind of fascinating. Even for 1958, Gigi was a bit of a throwback to an earlier time. It was the last great MGM musical of Hollywood's golden age, although Minnelli would direct Bells are Ringing in 1960 and that's pretty wonderful too. The cast is captivating. My favorites are Maurice Chevalier and Hermione Gingold. They are an absolute delight, particularly in their witty duet, ""I Remember It Well". Other song highlights are "Thank Heaven for Little Girls" and "Gigi". Leslie Caron is a spirited vision as the title character. No one conveys indignant exasperation like suave Louie Jourdan. The script is rather funny too. Isabel Jeans as the highly strung Aunt Alicia delivers some of the best lines with perfect timing and intonation during her tutelage. Classic lines abound. "A topaz? Among my jewels? Are you mad?" "Bad table manners, my dear Gigi, have broken up more households than infidelity." "Wait for the first-class jewels, Gigi. Hold on to your ideals." The social mores and customs are amusingly dated, but that's really the point now isn't it? Let's just say, they don't make 'em like this anymore. fastfilmreviews.com
Mark Hobin
Super Reviewer
Leonardo DiCaprio has never been awarded an Oscar... but somehow, this disaster won nine of them. What a vapid, pointless movie. The plot is "this young girl had best grow into the social graces of womanhood so that a rich, unattainable man will want to marry her." Then she does. The acting is hammy, even for a musical, and these bourgeois blowhards don't seem to work at anything. Paris and the French are stereotyped beyond belief, and if not for the occasionally witty lyrics - which the film can hardly be credited for, as this was adapted from the stage - there is nothing redeeming about this relic. It was a different time, sure, but this film beat out Cat on a Hot Tin Roof and the much more provocative and entertaining The Defiant Ones... plus, Spencer Tracy starred in The Old Man and the Sea... which wasn't even nominated! I know, I know; greatness is not defined by the Academy Awards. But the idea that this film gets to stand beside The Deer Hunter, The Best Years of Our Lives, One Flew Over the Cuckoo's Nest, Casablanca, Unforgiven, Kramer vs. Kramer, (or even Forrest Gump or Rocky!), absolutely turns my stomach. I was hoping this was a satire and that I was the only one not in the joke... but even if it was intended to be, no one would get that from it. For women, it implies, your worth is determined by whether you can properly pour coffee, or pick out a good cigar for a man, or know which jewels are the really good ones (so you can criticize the gifts you or other women get... from men, naturally). I'm pretty sure this film is the entire reason the Bechdel test came into existence. Simply atrocious... and two. full. hours. It's time you'll never get back. Worst. Best. Picture. Ever. Hands down.
Daniel Perry
Super Reviewer
½
A young woman enters maturity and falls for a family friend. Home of the child molester's anthem, "Thank Heaven for Little Girls," Gigi is a superbly decorated, pastel-hued showcase of art direction and set design. The only problem is that they forgot the story. What suffices as a plot is merely the cliche of male pursuit with little in the way of commentary on social graces or sexual politics, and the characters are types, conforming to the cliche in every way imaginable. Overall, pretty backgrounds do not make a good film by themselves.
Jim Hunter
Super Reviewer
Gigi Quotes
There are no approved quotes yet for this movie.