Go Tigers!
(2001)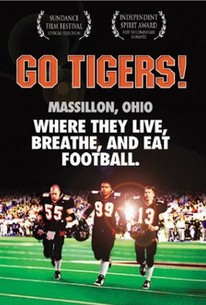 TOMATOMETER
AUDIENCE SCORE
Critic Consensus: Go Tigers! is both an absorbing and evenhanded documentary, a perceptive look into the world of high school sports and its impact on a community.
Movie Info
A first-hand account of young athletes in the high school football-obsessed town of Massillon, OH, this first feature by director Kenneth A. Carlson was shot on high-definition video over the course of the 1999 football season of the Massillon Tigers. At the beginning of the season, the team is nursing a "four-and-six nightmare season" and want to redeem themselves. Meanwhile, school officials attempt to raise funds though a tax levy after defeats at the polls, but if the levy is rejected again, it may mean unemployment for much of the school personnel, including the coaches. In retaliation, the players assume a winning season which puts extra pressure on them to earn scholarships and work much harder than a standard season. Among the handful of players depicted are Ellery Moore, a black defensive end with high ambitions to get out of his small town, especially after it is revealed that he has a shady past which may have included sexual assault. The film also candidly looks at the players off the field, as they drink and taunt fellow classmates who believe that the town has a misplaced sense of priorities.
Cast
Critic Reviews for Go Tigers!
Audience Reviews for Go Tigers!
Great documentary about the football obsessed town of Massillon, Ohio.
As a documentary it was well put together and everything but the subject matter was annoying. Especially the scene with the party where they totally glorified and were accepting of the underage drinking and everything. I just hate any sort of situation when someone is forced into a role that they might not have wanted. Like having to go into the family business because that's the way it is or something like that.
Go Tigers! Quotes
There are no approved quotes yet for this movie.