God Tussi Great Ho
(2008)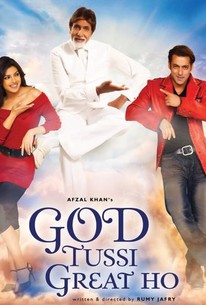 AUDIENCE SCORE
Critic Consensus: No consensus yet.
God Tussi Great Ho Photos
Movie Info
A mere mortal gets the unique opportunity to try his hand at being the creator in director Rumy Jaffery's heavenly comedy. Arun Prajapati (Salman Khan) has just experienced what he believes to be the worst day of his life, and as the sun begins to set he rails against God for making his life a living hell. When God responds by taking human form (Amitabh Bachchan) and challenging Arun to see how well he fares at carrying out the divine duties, the awestricken mortal responds with childlike zeal. The result is a series of hysterical disasters that threaten to spiral into a cosmic calamity. Arun thinks that by granting everyone their deepest wishes he can make the world a better place, but it doesn't take him long to realize that God's job is tougher than it looks. And while the love of Arun's life (Priyanka Chopra) is genuinely impressed with his newfound confidence, will she still have the same feelings for him once his powers are gone?
Critic Reviews for God Tussi Great Ho
All Critics (2) | Top Critics (1) | Fresh (0) | Rotten (2)
The result is a contrived, muddled masala movie meant only for die-hard fans of these two dummies.
Rami Jaffery, the director of God Tussi Great Ho, continues to deny that his movie is a remake of Bruce Almighty, but this film is, indeed, a cheap facsimile of the original, albeit with a few minor adjustments.
Audience Reviews for God Tussi Great Ho
½
Though not too good, I felt it was okay overall. Maybe because I've seen neither Bruce Almighty nor Evan Almighty (at least before watching this) from which this movie's probably inspired. However, the biggest drawback of this movie was Salman Khan. He's just overacting here, in fact, too too much overacting, tried to be much much dramatic, especially while looking above and complaining to God. Otherwise, this movie is an average fare. I'll recommend it once.
familiar stranger
Super Reviewer
God Tussi Great Ho Quotes
There are no approved quotes yet for this movie.