God's Sandbox (Tahara)
(2005)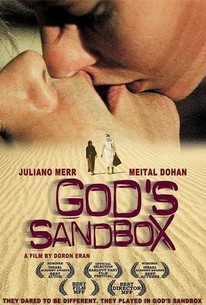 God's Sandbox (Tahara) Photos
Movie Info
Israeli director Doron Eran attacks the subject of ritual female circumcision in his 2002 film God's Sandbox. Hunting for her runaway daughter Rachel (Orly Perl) in Sinai, well-to-do author Liz (Razia Israeli) finally locates her -- and her daughter's Bedouin boyfriend Mustafa (Sami Samir). Upon learning of Liz's profession, Mustafa recalls a tale from his youth about a beautiful, liberated woman named Leila (Meital Dohan) who fell in love with a Bedouin's son named Najim (Juliano Merr). Najim's father learns of the romance and the two are forbidden to marry as they had planned. Disregarding his father's and the tribe's decision, Najim and Leila are banished -- but are later tracked down so that Leila can be captured and forcibly circumcised, as custom dictates. Mustafa's tale causes an extreme reaction in Liz and she and her daughter are forced to come to terms with a secret her mother has long kept hidden. God's Sandbox was featured in the "Another View" section at the 2002 Karlovy Vary International Film Festival.
Critic Reviews for God's Sandbox (Tahara)
Audience Reviews for God's Sandbox (Tahara)
½
An interesting story plot that follows a young, carefree woman's misadventure in the desert until her mother comes searching for her. Trying to understand her young, wayward daughter, Liz is bound on getting Rachel to return with her. When a story is told about a young, spontaneous woman named Leila, Rachel learn of a deep, dark secret that her mother has kept for many years. Raiza Israeli, Meital Dohan, Juliano Merr, Orly Perl, and Sami Samir stars.
God's Sandbox (Tahara) Quotes
There are no approved quotes yet for this movie.