Godzilla Raids Again
(1959)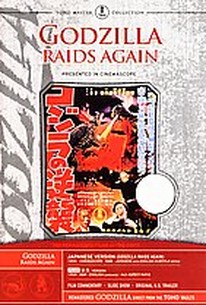 AUDIENCE SCORE
Critic Consensus: No consensus yet.
Movie Info
Following an emergency landing on a deserted island in the Pacific, young pilots, Tsukioka and Kobayashi, stumble into an epic clash between Godzilla and the monster, Anguirus.
Critic Reviews for Godzilla Raids Again
All Critics (3) | Fresh (2) | Rotten (1) | DVD (4)
The human story, though a little on the prosaic side, is simple enough and sweet enough that it feels like a complement to the monster action, rather than a distraction.
Unwise in investing so much time in its human characters, who are poorly drawn and never particularly compelling.
The grand lizard rises again, after rising again and again.
March 14, 2009 | Rating: 1/5
Audience Reviews for Godzilla Raids Again
½
"Whoopie-ti-yo, the biggest lizard raids again!" Sorry, Chris LeDoux and whoever the littlest cowboy is, but I, with a heavy heart, must admit that "Falco Rides Again" fits better, just because of that line, "This is the story of a lonely man who's seen the world, from 'Japan' to Afghanistan!". Well, say what you will about Falco, but when he rode again, he apparently actually got out of Japan eventually, whereas the Gojira/Godzilla stuck with Japan... after returning from the dead... I think. Hey, you have to give us Americans credit for changing this rascal's voice and origin around in 1959 to get the point across that this is, in fact, not the same monster from the original "Gojira", or "Godzilla", or whatever, although we had to have known that we wouldn't make much profit off of "Gigantis". That's actually dumber than "Gorilla-Whale" ("Gojira" is an amalgamation of the Japanese words for gorilla and whale), and as if that's not offensive enough, they gave everyone's favorite monster a demotion, from "King of Monsters" to plain old "Fire Monster". This film has so many titles, but what they really should have done was just aggravated religious nuts even more by calling this "Godzilla: The Second Coming", for his return is an event of such biblical proportions that he brought a few beast to brawl. Yeah, when it comes to advertising, it would appear as though Anguirus gets the shaft most of all, but he'll always have the honor of being Godzilla's first enemy and Gigantis' only one, and in a pretty entertaining flick, no less, until the slow spots come in, that is. The predecessor tossed in more than a few surprising slow spells, yet it could kind of justify them by featuring an even more surprising amount of depth, whereas with this film, while there is a little more entertainment value, the superficiality intensifies the slow spells as rather dull, almost as much as the dragging in plotting. Seeing as how this film is about 82 minutes long, one of the last things I expected was draggy spells, but the final product manages to find the time to work a couple in there by shaving down on exposition, answering to the extensiveness of the predecessor with glosses over scientific and narrative reasoning behind the establishment of the central conflict, and with limited characterization. With a shortage on a sense of motivation behind the characters, the film's human story angles surrounding the monsters' brawl and rampage fail to convince enough to overcome a sense of contrivance, exacerbated by some silly subtlety issues in the telling of an already either histrionic or over-the-top story. The original's story was by no means especially convincing, and it was a whole lot of chatter, with only so much action, but it did offer some genuine depth and potential, while this film, arguably a little too much action, is simple, dialing social, political and scientific themes way back for fluff. Without the dramatic bite of its predecessor, this film has difficulty in overshadowing the silliness of its premise, and it doesn't help that this kaiju-style story isn't as fresh as it was in its then-five-month-old predecessor, especially not when backed by a couple of tropes of the time which the original "Gojira"/"Godzilla" managed to transcend, and which make this fluff piece all the more predictable. There's something a little lazy about this film, as one might expect from a sequel that was made not even half of a year after its predecessor hit big, and while there is enough compensation in aesthetic and entertainment value to endear, the final product is familiar and superficial, as well as unevenly paced, undercooked and manufactured. The final product may succumb to mediocrity for many, but for me, again, it gets by, not as effective on the level of an already admittedly underwhelming predecessor, but as viscerally and stylistically enjoyable. Masaru Sato's score isn't as fresh or effective as Akira Ifukube's score for the predecessor, and it is already fairly underused, but its striking lighter spots and grand sweeping spots immerse, not unlike cinematography, by Seiichi Endo, that doesn't have the handsome bleakness of the predecessor, yet remains sometimes beautifully well-lit, with an engrossing range in lensing scope. If nothing else provides a sense of scale in this film, then it is, of course, the effects, which, like those in the predecessor, are dated and sometimes cheesy, - especially considering that this film is even more reliant on them - but are nonetheless remarkable for their time, while still proving respectable to this day, with unique designs for Gojira/Godzilla and Anguirus, whose size and havoc are solid just fine. All of the chaos that comes about when these monsters feud with humans, man-made structures, and each other is not simply where the technical and stylistic value really shines, but where the film itself really shines, with surprisingly dynamic and sweeping staging, and enough flare to the effects to dazzle at times, and consistently engage in the heat of action. To be so slam-banged, this film may actually offer stronger effects than its predecessor, although you might simply think that because the effects are brought more to the forefront, until they try to bring in substance over style with a charming, but thematically superficial and dramatically manufactured human angle that is neither unique or grand. Some color in the narrative goes a long way in holding some degree of your investment, especially when the cast turns in some charismatic performances that are more convincing than the characterization itself, but at the end of the day, this film doesn't have the substance of its predecessor, and neither style nor charm can endear you through the natural and consequential shortcomings here, not without colorful direction. Director Motoyoshi Oda's slow spots in storytelling feel more limp than thoughtful, like the still-sometimes limp direction of Ishiro Honda in the predecessor, but when storytelling does liven up a bit, it holds your attention with a few charming plays with the performers, and really immerses with style, particularly during the action sequences that only mark a height in entertainment value. For all of its slow spots, the film is adequately entertaining throughout its course, and just as the simplicity thins down the potential for this fluff piece, it does establish a potential for a fun factor that is fulfilled just enough by charm and relatively high-caliber production values to get by, even if just barely. Once the raid has wrapped, at least for now, the final product all but collapses into underwhelmingness under the pressure of superficiality which is stressed by dull and draggy spots, expository shortcomings, contrivances and familiarity, but which is met with enough charming acting, engaging scoring and cinematography, colorful storytelling and relatively spectacular effects and action for "Godzilla Raids Again"... or "Gojira no Gyakushu", or "Counterattack of Godzilla", or "Godzilla: The Second Coming" (We'll just continue to forget about "Gigantis, the Fire Monster") a reasonably entertaining, if perhaps overly fluffy second installment in a legendary franchise. 2.5/5 - Fair
Cameron Johnson
Super Reviewer
The sequel to the 1954 phenomenon, made only 4 months later, "Godzilla Raids Again". This is the only other black-and-white G-film in existence, and a very rare one at that. Probably due to the VERY poorly received American version. Thankfully, Classic Media one more comes through, even including the Japanese version. This film was decent at best, no where near as powerful as the first. The four fathers of Godzilla weren't all here, Honda and Ifukbe, probably a major factor in the sharp contrast. The score by Masaru Sato was't as striking as Akira Ifukube's score, but it was still all right. Shigeru Kayama provides a good story, but I wish more of the characters from the first were in it. The escaped convicts was an interesting plot point, but overall the characters simply aren't as involving. Hiroshi Koizumi and Minoru Chiaki star but not even their performances can save the character's overall dullness. Takashi Shimura returns as Dr. Yamane, the only actor reprising his role disappointedly. Kind of a downer. The climatic battle is thrilling but Kobayashi's 'heroic' death was poorly scripted. Him sticking around in a weaponless plane as jets bomb Godzilla, not feelin' it. Godzilla looked fantastic, the only real difference being his slimness. The puppet's teeth were the only bad point. Anguius was Godzilla's first ever foe and you got to love the echoing roar. The fights are entertaining, the camera speed accident a bit odd, but whatever. The fight ends brutally with Godzilla sinking his teeth in his throat nicely. The effects were nicely done all in all for their time. The American version is just horrific!!! The constant voice-over is annoying and Kobayashi sounds like a bumbling oaf, despite the acclaimed actor he was in Japan. The score became a jumbled mess along with the story. Gigantis and Anguirus are somehow related and attracted to fire, blah, blah, blah, blah, etc. Anyways, this film is good,but I warn you the U.S. version is only good for the commentary ( by Steve Ryfle!!!). Stick to the Japanese version 5 Star Japanese Version 3 Star US Version 9-28-13
Bruce Bruce
Super Reviewer
Sequel to the classic monster flick, Godzilla is a worthwhile and entertaining movie that gives Godzilla a bit more back story than the first. The film boasts all the thrills and suspense and it builds up on the plot of the first. However the first film is better, and though it has its flaws, this second helping of Godzilla is still great entertainment for genre fans. In this second outing, Godzilla's name was changed to Gigantis, and given some slightly new attributes. At times the plot seems a bit unfocused, but all that matters is Godzilla destroying everything in his path, and he most certainly does that. The performances of the cast are good, and the directing and effects works are very well done. The film brings horror and drama elements brilliantly into one monster flick, and if you enjoy classic films, then give this sequel a shot. Godzilla was a stunning milestone in monster film history, a landmark horror film, and was understandable that sequels were going to be released and spawn an entire series devoted to this monster. In terms of sheer entertainment value, this entry builds up on where the first film left off, and delivers what you'd expect from a well layered and structured monster picture. Overcoming its flaws, this is a fun, entertaining and memorable film that will certainly delight fans of the genre everywhere. Godzilla steals the show yet again, and in terms of sheer entertainment, this film has a bit more monster action than the first, and a slightly more detailed plot. However, I much preferred the original, and it had a more dramatic feel to its horror content made it a classic. As it stands, Godzilla Raids is a very good sequel and it gives something different to viewers looking for mindless thrills that monster films provide.
Godzilla Raids Again Quotes
There are no approved quotes yet for this movie.