Godzilla Vs Mechagodzilla II (Gojira VS Mekagojira)
(1993)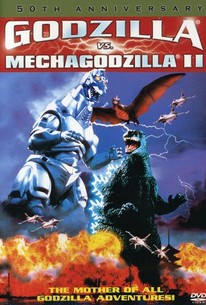 AUDIENCE SCORE
Critic Consensus: No consensus yet.
Godzilla Vs Mechagodzilla II (Gojira VS Mekagojira) Photos
Movie Info
Everyone's favorite big lizard gets ready to rumble in this sci-fi monsterfest. On Monster Island, an egg is discovered in the nest of Rodan, the giant pteradon, but when the people monitoring the island discover that a baby Godzilla has hatched, the United Nations' official Godzilla Task Force swings into action, capturing the little guy and keeping him in captivity. Needless to say, Godzilla is upset to discover that Junior is missing, and he and Rodan set out to find the youngster. However, as the monsters leave a path of destruction in their wake, they discover that a formidable foe awaits them -- MechaGodzilla, a seemingly indestructible mechanical monster made of steel. Acclaimed by fans as one of the best of the second-generation Godzilla epics, Godzilla vs. Mechagodzilla was directed by Takao Okawara, who got his start in filmmaking as assistant director on Godzilla 1985. ~ Mark Deming, Rovi
News & Interviews for Godzilla Vs Mechagodzilla II (Gojira VS Mekagojira)
Critic Reviews for Godzilla Vs Mechagodzilla II (Gojira VS Mekagojira)
Audience Reviews for Godzilla Vs Mechagodzilla II (Gojira VS Mekagojira)
Godzilla Vs Mechagodzilla II continues the streak of good sequels that have entertained fans up to this point. Although it is nothing ever original, the films always have what the fans want, and this film most certainly will appease fans. The storyline is very well written out, and it definitely stands out. However at times the film could have been improved upon and certain parts could have been rewritten to make it a bit better. The direction is good, and the pacing of the film is steady with keeping an emphasis on trying to create an effective movie that at this point in the franchise would normally run dry with ideas. Using old ideas to a certain extent, the film manages to be entertaining and worthwhile due to its story, direction and acting and of course monster fights that are always the standout of each Godzilla movie. This is a very good movie, and despite lacking in some areas, it manages to overcome its slight flaws to be a monster film with flair and one that is entertaining from the first frame onwards. As a fan of the series, this is a worthwhile film that continues the tradition of creating good films in the series despite the fact that this is the 20th picture in this long lasting series of monster movies. Give it a shot, and you will most likely be entertained throughout due to its ideas and story. Fans will surely love it and it is a film that belongs among the best in the series. This is a surprising film that uses old ideas to its advantage and gives fans what they want out of a Godzilla flick.
Not really a sequel to Godzilla vs. Mechagodzilla. This is a sequel to the films in this series. Mecha-Ghidorah is raised from the sea by a newly appointed G-Force, a Japanese government agency designed to deal with Godzilla. They start to build Mechagodzilla, just as a mutant Pteranodon is discovered and her egg taken. Just so happens this is actually a baby Godzilla egg. I love the baby Godzilla in this film. Sure it looks strange, but it should. With its wide beady eyes and gormless smile. Rodan's flying scenes, and the battles, are yet a greater testament against CGI. These films do not seek perfection and they inspire the imagination. Films are truly trying to replace the imagination these days, rather than aid it. Watch a Godzilla movie to start your detox.
Luke Baldock
Super Reviewer
Godzilla Vs Mechagodzilla II (Gojira VS Mekagojira) Quotes
There are no approved quotes yet for this movie.