Godzilla vs. Megalon
(1973)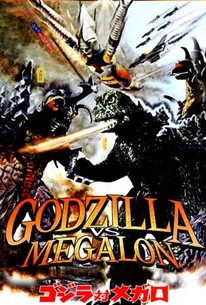 Godzilla vs. Megalon Photos
Movie Info
You know who Godzilla is. Megalon is a huge cockroach-like beast. Godzilla has been a good guy since 1961, so Megalon is consigned to the villain's role. Godzilla is evidently in seclusion, so the people of Tokyo build a robot to seek out the big lizard (wouldn't a phone call have sufficed?) Don't miss the Gigan, the creature with a buzzsaw in its abdomen.
Critic Reviews for Godzilla vs. Megalon
Audience Reviews for Godzilla vs. Megalon
So far, this has got to be the worst film in the series since Son of Godzilla. I've said it before in my previous reviews of Godzilla films, the filmmakers are not even trying anymore. With everything that they've done in the past few entries, they clearly just want to make the series appeal to a younger crowd and in doing so; they cheapen everything else in the process. The is a dull and boring and will definitely make you wonder why they kept making uninspired films. Instead of forcing themselves to write something that is truly engaging, they simply give it minimal effort, thus it becomes a tiresome effort that just doesn't cut it. I absolutely hated the film and I thought that the filmmakers really didn't care about how it turned out. I thought it was a pointless effort that just failed to live up to others in the franchise. The film lacks in terms of plot, special effects, which by now look pretty bad even by Godzilla standards. Overall I've enjoyed most of the films in the series, but it is clear that the filmmakers really don't care about creating something that will quite fun and entertaining for monsters film fans. This film simply looks cheap, feel cheap and overall it feels rushed with no effort into trying to create something memorable and amusing for genre fans. I really was let down by this film, and I didn't expect the series to get any better and thus it just ends up being a pointless entry in a once great series.
Ever since the 1954 original, the Godzilla movies became more and more geared towards kids. This is the low point of the Godzilla franchise as a whole, the level of awfulness is only matched by "Godzilla's Revenge". The film was shot in a matter of 3 weeks, and it shows. The production value is cheap and Z-grade. The plot is silly(even for a Godzilla movie) and devoid of any monster action until the very end. There are times, like in "Plan 9 from Outer Space", where day and night drastically switch between shots. The movie was originally meant to be a vehicle for the robot Jet Jaguar, who looks like a life-sized Happy Meal toy. Godzilla was added in at the last minute, which shows because he doesn't come in until the last 20 minutes. The Godzilla suit is not too bad but a lot of Godzilla menace is taken away because he looks rather "cute". The film uses a lot stock footage from other Godzilla movies, which gets annoying really fast. The monster fight at the end is decent but the best moment is Godzilla's infamous drop kick that he uses on Megalon. It is one of those rare moments in cinema where it is so over-the-top that it works its way around to being awesome again. This movie seems to have been made for Myster Science Theater 3000, which they actually did an episode on this film. Mystery Science Theater 3000 is the only way to watch this movie because it is comedic gold. The monster fight at the end is pretty funny but this is one of the worst Godzilla movies ever made.
Christopher Heim
Super Reviewer
That poster sure is weird. I have no idea where the twin towers came into this. Whatever. I liked this movie for a number of reasons. First of all, the protagonists were a trio of guys. It made a change from forced romances, or battle of the sexes tripe. We have two best buds, a scientist and a racing car driver, plus one of their younger brothers. The racing car driver is only really here to add a car chase, but at least it was something different for Godzilla. The scientist has built a robot, which some thugs try and teal. These thugs are scientists from the lost country of Seatopia (???), and they are stealing this robot to control and send coordinates to their very own monster Megalon. A kind of beetle with drills. Luckily, the robot is then reprogrammed to find Godzilla. The robot also manages to make himself grow, resulting in a bizarre and convoluted fight sequence. Gigan also makes an appearance, with further goes to show how crowded these films are getting. On the one hand, it's fun to see something so shamelessly trying to please. It does what it does best, giving us men in suits, fighting each other.
Luke Baldock
Super Reviewer
Godzilla vs. Megalon Quotes
There are no approved quotes yet for this movie.