Going in Style
(2017)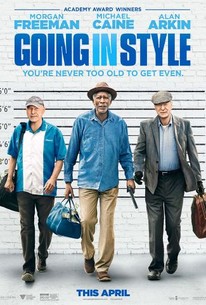 Movie Info
Oscar winners Morgan Freeman ("Million Dollar Baby"), Michael Caine ("The Cider House Rules," "Hannah and Her Sisters") and Alan Arkin ("Little Miss Sunshine") team up as lifelong buddies Willie, Joe and Al, who decide to buck retirement and step off the straight-and-narrow for the first time in their lives when their pension fund becomes a corporate casualty, in director Zach Braff's comedy "Going in Style." Desperate to pay the bills and come through for their loved ones, the three risk it all by embarking on a daring bid to knock off the very bank that absconded with their money.
News & Interviews for Going in Style
Critic Reviews for Going in Style
Audience Reviews for Going in Style
All the charm of listening to yer Grandma or Grandpa pass gas ... for 90 minutes. Okay. Less charming.
Kevin M. Williams
Super Reviewer
If seeing Michael Caine, Morgan Freeman, and Alan Arkin pal around and bicker for 90 minutes is enough reason to see a movie, then Going in Style offers that and precious little else. This is a movie that offers little more than three great old codgers doing their schtick as they plan to rob the bank that is cheating them out of their hard-earned pensions. The old-guys-acting-up routines vary from mildly amusing to sad and desperate, like a sequence where the trio inexplicably decide to practice their criminal impulses by robbing a convenience store. It's all so broad and obvious and lackluster. There's a scene where they get high and the mere utterance of the word "munchies" seems like it's intended to be a comedic payoff. Going in Style is a remake of a 1979 movie where George Burns, Art Carney, and Lee Strasberg take to a life of crime to animate them from a forgotten existence. It was strangely serious and had pockets of depth about the kind of care the elderly were receiving and how invisible their needs became to our country. This update loses any seriousness for exasperated and hollow hijinks. One-time indie darling Zach Braff (Garden State) takes his turn as a hired gun directing for the studio system. I don't know if he was easily cowed by the acting veterans or the studio, but his comedy instincts honed over several seasons from Scrubs feel muted here. My theater was packed with people old enough to get their social security checks and they were barely chuckling politely. It's predictable every step of the way and ginned up with contrived conflicts. Still, if all you want to see is a group of octogenarians crack wise and act foolish and you have no other pressing demands, Going in Style may be just enough to get by. Nate's Grade: C
Nate Zoebl
Super Reviewer
An average and highly amusing crime caper. Caine, Freeman and Arkin are charismatic enough to make this comedy work but there's only so much charisma to make this storyline anything more than just average.
Film Crazy
Super Reviewer
Going in Style Quotes
There are no approved quotes yet for this movie.
Discussion Forum
Discuss Going in Style on our Movie forum!