Good Guys and the Bad Guys
(1969)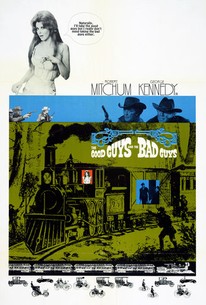 AUDIENCE SCORE
Critic Consensus: No consensus yet.
Good Guys and the Bad Guys Photos
Movie Info
In this comic western, Flagg (Robert Mitchum) is a veteran marshal forced to retire by the pompous Mayor Wilker (Martin Balsam). McKay (George Kennedy) is a wily gunslinger. The two combine forces to stop a young band of outlaws from robbing the train when it pulls into the station. Flagg warns the mayor of the upcoming attempt but is not taken seriously by the town politician. McKay and Flagg ride out to warn the train of the impending crime, which finds McKay facing members of his own gang in a traditional western showdown. David and John Carradine appear in this feature along with Tina Louise and Lois Nettleton.
Critic Reviews for Good Guys and the Bad Guys
All Critics (4) | Top Critics (1) | Fresh (1) | Rotten (3)
a meaningless and harmless bit of flatulence that caused barely a ripple of interest in 1969

OK Burt Kennedy oater featuring Mitchum and Kennedy in leads.

It's clear that everybody involved with the production had a great time making it, but that simply doesn't disguise the film's inherently superfluous nature.

Audience Reviews for Good Guys and the Bad Guys
½
It's clear that everybody involved with the production had a great time making it, but that simply doesn't disguise the film's inherently superfluous nature.
Greg Wood
Marshall Flagg is one of the last great marshalls around untill he is forced to retire by the town mayor that is until he hears his old enemy is in town a outlaw named McKaye lookin to rob the next incoming train once he captures McKaye he comes to see he isnt the big shot outlaw he once was and now there is a new generation of gunslingers that must be stopped and its gonna take McKayes help to do it. Very well done western funny at times will keep any fans of westerns interested until the very end. Stars Robert Mitchum George Kennedy and David Carradine as the young outlaw
Maybe it's a contractual obligation. As stars known for their Westerns age, they have to do at least one movie about the fading days of the Old West. Hell, John Wayne did easily a half-dozen of them. It could be argued that the Mel Gibson [i]Maverick[/i] is just a dying-West Western for James Garner. And, of course, there's [i]Unforgiven[/i], one of the most famous of the genre. This is a slightly more obscure version of the story, and it incorporates a twist or two that isn't necessarily in the others of the type, but there are certain aspects that anyone who's seen more than one or two of these can pick out. If nothing else, it gives a framework on which to hang one's judgement of the movie, though I will attempt to refrain from direct comparisons. Marshall James Flagg (Robert Mitchum) has been serving the town of Progress for many year. He's getting old, and "old" is not the image Progress wants to project. So, without consulting Flagg, Mayor Randy Wilker (Martin Balsam) retires him. They convince him that there's crime for him to fight, and off he goes--into a retirement party. He is given the position of Marshall Emeritus. Now, that implies, one would think, that his expertise would be repsected and used. However, he's basically brushed under the rug, even when he brings news that Big John McKay (George Kennedy) is in the area and likely to rob the new bank. He's told that McKay is too old to be a threat. So, of course, Flagg goes after him on his own. And McKay is planning to rob the bank, though with the help of a group of younger men, led by Waco (David Carradine). Waco is one of the things that's supposed to represent the New West. He's a different kind of villain. McKay is ruled by a code of honour--he says he's never broken his word to a friend or an enemy, and we mostly believe him. However, we also believe that Waco's word isn't worth a thing, even were he to give it. Waco kills people without much worrying about the consequences. He's as much a symbol of the changing times as the cars that are all over Progress, as much as the indoor bathroom. Times are changing, and Flagg and McKay are having a hard time changing with them. It's been a while since I've seen other movies of this stripe, but I've liked a lot of them better. This movie seems unsure if it's zany or serious. I have not labled it as a comedy, because I don't think it's really supposed to be one, but I think we are supposed to see more humour in the situation than there actually is. Mostly, the John Wayne movies are aware of this. It's possible to inject humour into it, but the situation itself just isn't funny. The times really did change, and it really was hard for the people who couldn't adjust. It's hard for me to laugh at George Kennedy's surprise at the indoor plumbing. It's an interesting addition to a very specific genre, but I'm not sure it's really worth seeking out. If you are very bored, or it's there, sure. And Robert Mitchum is a good actor and often worth seeking out on his own merits. (He received one Oscar nomination in 1945 for a movie I've never heard of--[i]GI Joe[/i], and not the upcoming one!--and never even got an honorary after that.) He's one of the icons of the classic era of the Western, and this is his sunset movie. I guess that means that, if you really like Robert Mitchum, this is a must-see. But for the average person, I really wouldn't bother.
Edith Nelson
Good Guys and the Bad Guys Quotes
There are no approved quotes yet for this movie.
Discussion Forum
Discuss Good Guys and the Bad Guys on our Movie forum!