Good Time
(2017)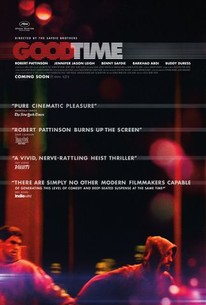 TOMATOMETER
AUDIENCE SCORE
Critic Consensus: A visual treat filled out by consistently stellar work from Robert Pattinson, Good Time is a singularly distinctive crime drama offering far more than the usual genre thrills.
Movie Info
After a botched bank robbery lands his younger brother in prison, Constantine Nikas (Robert Pattinson) embarks on a twisted odyssey through New York City's underworld in an increasingly desperate-and dangerous-attempt to get his brother out of jail. Over the course of one adrenalized night, Constantine finds himself on a mad descent into violence and mayhem as he races against the clock to save his brother and himself, knowing their lives hang in the balance.
News & Interviews for Good Time
Critic Reviews for Good Time
Audience Reviews for Good Time
½
Robert Pattinson keeps proving that he can be an amazing actor when not playing a ridiculous vampire, delivering a magnetic performance in this frenetic, stylish and super tense movie bathed in neon lights but which only falters a bit in the end by wanting to have a "message."
Carlos Magalhães
Super Reviewer
½
It's not often a film from this era manages to make me think of some of Scorsese's early features, but 'Good Time' does just that. Taking place in New York City, focusing on criminals, and presenting a bleak tone with a few black comedy laughs as well, director Ben Safdie is doing his best Scorsese impression without it feeling too homage-y. In fact, Scorsese is one of the first people listed in the thank you section of the credits. I think one of the critiques that 'Good Time' may receive is that it's too miserable and there never seems to be any light at the end of the tunnel. Take Robert Pattinson's lead character, Connie. He's the character we follow for most of the movie, and I'm not sure he makes a single decision that would be considered morally right. He's constantly trying to evade law-enforcement to get back to his brother who was arrested for robbing a bank with him. It's very difficult to root for someone with that type of mindset, but Pattinson winds up being someone who I didn't want to fail. Sometimes just taking a back seat and watching a film unfold is better than trying to attach yourself to characters are unlikable. One standout from 'Good Time' is the score by Daniel Lopatin. Much like Drive, Neon Demon, and the upcoming Blade Runner 2049, 'Good Time' tries to evoke a different era with its music. Lopatin's score feels like it's straight out of an 80's film. You wouldn't think it would work, but there's something some hauntishly thrilling about it, with an undertone of humanity that made it really effective. No wonder it won an award back at Cannes. Energetic, relentless, filled with great performances, and a brutally dark story. makes 'Good Time' one of the more interestingly unique films of 2017, and certainly one of the best directed. Evoking Scorsese's 70's films is a good start, but the film definitely makes its own imprint along the way. 8.2/10
Thomas Drufke
Super Reviewer
½
I feel like I can make a fair assessment of the movie I'm about to watch simply by the quality and inventiveness of its title card and/or opening credits. Sometimes these factors indicate nothing, but other times they can indicate something wholly crappy or what will be nothing if not an inspired trip to the cinema. There is just something about the way this opportunity can be executed that seems to somehow connect with how far the directors were willing to go to make every ounce of their film thrive. This is all to say that Good Time has a pretty fantastic one and from the moment the title card breaks up the opening sequence to the tune of Oneohtrix Point Never's blazing score culminating in a moment of pure cacophony that continues through to a bewildered Robert Pattinson in extreme close-up's that make the tone all the more manic, we're so taken off guard that we're now seemingly prepared for anything. It should also be noted that directors the Safdie brothers (Heaven Knows What) open their film with a shot akin to that of the opening shot of The Dark Knight suggesting a scale of epic proportions even if they might not have the budget to back it up, but still-they have the ambition. Not coincidentally, the post-title card sequence shows Pattinson's Connie Nikas taking his mentally handicapped brother, Nick (Benny Safdie), and using him to help him rob a bank. The actual robbery is played not for action, but is actually rather subdued to the point it would seem Connie and Nick might actually pull their small-scale heist off, but if that were the case we'd have no movie and so when the cops finally do come to pursue the brothers and capture Nick with Connie barely evading them we are twenty-plus minutes into the flick when the credits begin appearing on the screen; Oneohtrix's score again throbbing like the pulse of the movie it is. Pattinson's face once again carries an expression of confusion as he makes his way through back alleys and hallways to try and evade the police for as long as necessary. This breaking up and timing of the title card and opening credits is a stylistic choice that is implemented in the fashion that it is in order to both guide the audience through and let them in on the fact that Good Time is going to be one hell of an unpredictable ride. The Safdie brothers delivering an epilogue of sorts that encapsulates everything the rest of the movie will attempt to demonstrate through its actions. In essence, the Safdie's set the stage in such a manner that while it seems the narrative is largely improvised from moment to moment that in reality, Good Time knows exactly what it wants to be and succeeds at being just that. read the whole review at www.reviewsfromabed.com
Philip Price
Super Reviewer
Good Time Quotes
There are no approved quotes yet for this movie.
Discussion Forum
Discuss Good Time on our Movie forum!