Gori vatra
(2005)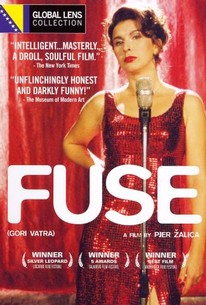 Movie Info
Bosnian filmmaker Pjer Zalica makes his feature debut as a writer/director with the dark comedy Gori Vatra (Fuse). It's post-war peacetime during the late '90s in the Bosnian town of Tesanj and the townsfolk are busy preparing for a visit from President Bill Clinton. The town has become overrun with corruption due to the years of war, but they work together over a few days to pretend that everything looks fine from the outside. Crooked cop Mugdim (Izudin Bajrovic) and gangster Velija (Senad Basic) keep the town running with an organized crime scheme; Velija has to pretend that his brothel is really a cultural center. Meanwhile, the former police chief, Zaim (Bogdan Diklic), is thinking about kidnapping Clinton in order to get revenge for the probable death of his son during the war. Fuse won the Silver Leopard award at the 2003 Locarno International Film Festival.
Critic Reviews for Gori vatra
Audience Reviews for Gori vatra
Given the atrocities that were committed in the region during the breakup of the former Yugoslavia, and the serious nature of the ethnic hatreds that still exist in the region, a comedy about a town getting ready for a visit from the US president seems a bit out of place. And at times, some of the scenes made this viewer uncomfortable. But maybe humor is just what the situation needs to ease the tensions. At times, it was difficult to keep the players straight, and to understand the relationships between the various villagers, but eventually it all begins to make sense. Mildly entertaining, one sees where it is inevitably going some little while before it gets there, but by that time, the investment has been made and one might as well stick around for the pay off. A few rather chaste sex scenes, and the interaction between the two factions of firemen provided some of the lighter moments, while the story of the father searching for the son who was killed during the fighting lent a certain poignancy to the entire affair.
Mark Abell
Super Reviewer
Gori vatra Quotes
There are no approved quotes yet for this movie.