Grass
(2000)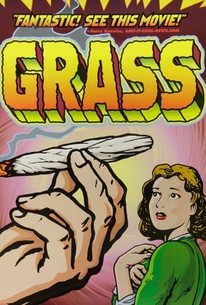 Movie Info
A history on the prohibition of marijuana, the longest running, most disobeyed prohibition of modern times. Utilizing archival footage of 1950s anti-drug propaganda films, 1960s hippie pot marches and 1980s conservative political speeches, the film also serves as a portrait of marijuana in popular media over the last 50 years.
Audience Reviews for Grass
½
an interesting and decent pot doc, gets the most circulation at legalization events
_kelly .King
Super Reviewer
½
Documentary detailing the American government's often absurdly hyperbolic campaign of misinformation about marijuana. The archival footage and clips from REEFER MADNESS and other (non-government sponsored) exploitation films are often hilarious, but if you lack a sense of righteous indignation over pot prohibition, the joke wears thin before the movie ends. With celebrity stoner Woody Harrelson narrating, it's obvious that the filmmakers aim is to preach to the potsmoking choir.
½
Woody Harrelson effectively narrates this documentary which exposes America's propaganda-laden war on marijuana. Although the musical score is less than spectacular, I appreciate the truth-seeking information as it's objectively projected. Marijuana was first outlawed as a means to control Mexican immigrants from making their living in southern US as farm-hands (who smoked pot to relax after working long days in the fields). The resulting unconstitutional DEA legislation resulting in America's 'War on Drugs' has since placed media attention on 'illegal immigrants' throughout the 20th & 21st centuries. While prudish members of society condemn pot smokers for growing and trafficking it, marijuana carries a wide range of homeopathic applications - appetite builder (treats HIV/AIDS/anorexia), analgesic and stress relief (cures pain & depression in small doses) and dulls symptoms of glaucoma. Pivotal advocates face imprisonment, death sentences and false charges based on the North American 'Drug War' laws. This film will educate and entertain those interested in researching the political impact of weed, whether you're a marijuana advocate (like Harrelson) or a clean-living political activist.
Grass Quotes
There are no approved quotes yet for this movie.