The Greatest Game Ever Played
(2005)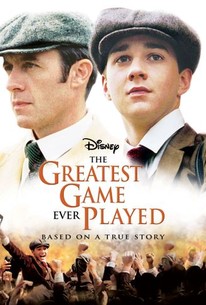 TOMATOMETER
AUDIENCE SCORE
Critic Consensus: Despite all the underdog sports movie conventions, the likable cast and lush production values make The Greatest Game Ever Played a solid and uplifting tale.
The Greatest Game Ever Played Photos
Movie Info
The true story of an upset victory that helped change the sport of golf forever provides the basis for this period drama. Francis Ouimet (played by Shia LaBeouf) was born in 1893 to a working-class family in Massachusetts, and grew up fascinated by golf. However, at that time golf was considered a pastime of the wealthy and privileged, and British and Scottish players dominated the professional game. Ouimet's familial home was near the Brookline, MA, Country Club, and over the stern objections of his father, Francis got a job there as a caddy. Honing his skill in his spare time, Francis displayed a tremendous natural talent for the game and an understanding of its strategies, and 1913 he became the first amateur to play in the U.S. Open, held at the Brookline Country Club. Ouimet's presence was considered little more than a novelty at the time; Harry Vardon (Stephen Dillane), a British champion with six tournament victories under his belt, was considered a shoo-in to win, with Ted Ray (Stephen Marcus) his only serious competition. However, Vardon, a fellow working-class boy who had overcome tuberculosis to become Britain's premier professional golfer, had more in common with Ouimet than anyone expected, and the tournament unexpectedly became a hard-fought competition between an established star and a promising unknown. Directed by Bill Paxton in his second directorial effort, The Greatest Game Ever Played also stars Elias Koteas as Francis' father, Josh Flitter as the ten-year-old boy who becomes Francis' caddy, and Peyton List as Sarah Wallis, Francis' sweetheart.
People Who Like this movie also like
News & Interviews for The Greatest Game Ever Played
Critic Reviews for The Greatest Game Ever Played
Audience Reviews for The Greatest Game Ever Played
½
The Greatest Game Ever Played is an excellent family-friendly, underdog, sports-themed film in the Disney tradition. I thoroughly enjoyed the cast; the young Shia LaBouf was perfect for the role. Sure, it's clichéd at times; the class conflict/social structure theme permeates the movie and is too heavy-handed at times. It's a period drama which may not be familiar to viewers not schooled in golfing history. In the early 1900s, golf was new to America and dominated by British champions such as Harry Vardon. Furthermore, the game belonged to the upper crust of society, those who inhabited exclusive country clubs. However, both Vardon and Francis Ouimet (LaBouf's character) arose from humble beginnings and signaled changes to come. It's predictable in the Disney tradition but positive and uplifting nonetheless. The golf itself is interesting, but this isn't Rocky in terms of sports excitement. The film even has several fine comedic moments, especially those featuring Ouimet's caddy, a plucky fifth-grader. In short, it's an enjoyable film, and you don't have to like golf to appreciate it.
Clintus Maximus
Super Reviewer
½
Good film! Shia LeBeouf was good, and Stephen Dillane was perfectly cast.
Jameson Worley
Super Reviewer
½
Why had I not heard of this film before? It would have gone completely under my radar, if it weren't for me catching it on TV, when randomly zapping through some channels. I'm surprised it hasn't received more attention than it has, because it's quite a remarkable and inspiring story, about a young boy from an unprivileged background, who blows everyone away as he defeats his own idol in the 1913 US Open. Being a golf player myself (or was at least, I haven't played for years now), it was very interesting learn a bit of its history, and to see what the game looked like at its humble beginnings, almost a century ago. Shia LaBeouf, who in my opinion is a very underrated actor, excels in his role and brings some of his finest acting to date. Better yet, it also reminded me of all the good times I've had during my golfing years, and made me wanna pick up my clubs again and head out on the grass fields. It's only handicap (pun intended), is its rigid adherence to the big book of sports-movie clichés: An underdog from a poor background, who fights against the odds. The unsupportive father, who thinks he's wasting his time and should get a "real job". The upper class snobs, who mocks his every breath, until they are forced to recognize his incredible talent. The list could be made very long. Other than that though, it's an uplifting true story that, however ironic it may sound, goes well below par in its final score.
The Greatest Game Ever Played Quotes
| | |
| --- | --- |
| Harry Vardon: | How'd you sleep? |
| Ted Ray: | Like a baby. Woke up every two hours and cried. |
| | |
| --- | --- |
| Eddie Lowery: | Let it roll and it'll seek the hole. |
| | |
| --- | --- |
| Eddie Lowery: | You gotta settle down now Francis. |
| Francis Ouimet: | Yeah? And how we gonna do that? |
| Eddie Lowery: | You're just gonna have to play better... Keep your head down. |
| | |
| --- | --- |
| Freddie Wallis: | easy peazy lemon squeezy |
| Freddie Wallis: | Easy peasy lemon squeezy. |
| Eddie Lowery: | Easy peasy lemon squeezy. |