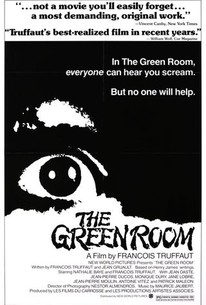 The Green Room
1978, Drama, 1h 34m
10 Reviews
500+ Ratings
Rate And Review
Movie Info
Julien Davenne (François Truffaut) is a French writer who becomes consumed with the concept of death. After losing many friends during the fighting in World War I, Julien constructs a shrine to those close to him who died in battle. At the heart of Julien's obsession is his late wife, whom he honors throughout his home, which is essentially one large memorial dedicated to her memory. Though Julien makes fleeting attempts to connect with the living, he seems more comfortable with the dead.
Audience Reviews for The Green Room
"The Green Room" is one of director Francois Truffaut's most obscure features. Deservedly so, perhaps. Truffaut himself stars as Julien Davenne, a 1920's loner who writes obituaries for an outdated journal that only senior citizens read. He is obsessed with his lost loved ones, most notably his wife Julie (who died very young) and the fallen members of his World War I squad. Maintaining intense reverence for the dead is his top concern, to such an extreme that he's greatly offended when a widowed friend dares to remarry. The film hammers on Julien's fixation for 90 minutes, offering little development beyond a growing relationship with a younger woman (Nathalie Baye) who shares his pervasive grief. His principles are also tested with the death of a one-time close friend whom he now detests. But by the time he decides to create a large-scale, physical shrine to the departed (the honored include many of Truffaut's own heroes), Julien seems more demented than sympathetic and you'll probably feel an emotional distance from his crusade. Truffaut gives a solid, credible performance, though his character's reserved nature doesn't make any great demands on him. A second unusual casting is a deaf boy as Julien's son Georges -- this was the actor's only credit, so there may be an interesting tale behind the choice. (The common ground between the Julien/Georges bond and the doctor/boy relationship in 1970's "The Wild Child" should be noted.) Given previous classics like "Two English Girls" and "The Story of Adele H.," it's no surprise that Truffaut shows an expert touch with period drama here. And the score makes lovely use of Maurice Jaubert pieces. "The Green Room"'s narrow plot just feels too repetitive and claustrophobic, however.
See Details