Greenberg
(2010)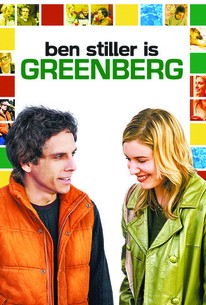 TOMATOMETER
AUDIENCE SCORE
Critic Consensus: Greenberg's title character is harder to like than most, but Ben Stiller's nuanced performance and a darkly funny script help take the misanthropic edge off.
Movie Info
A New Yorker moves to Los Angeles in order to figure out his life while he housesits for his brother, and he soon sparks with his brother's assistant.
News & Interviews for Greenberg
Critic Reviews for Greenberg
Audience Reviews for Greenberg
Perhaps it is an honest film, but not much fun to watch.
Baumbach has cemented himself stylistically with the likes of Wes Anderson because his films have their own cache of interesting and definitely flawed individuals. What his films lack in nuance and jarring cinematography, are made up for with their writing. These people do not have the same impact as some of the kooky and always blank faced characters of his past films. Instead of the sage sarcasm and indifferent irony of past films, it takes a look at the lives of Generation X nowadays. They're obviously aged, still rocking out to the same awesome music, but now these people are espousing the dreams of their lost generation much like their elders did to them twenty years ago. Roger Greenberg (Stiller) epitomizes a man going through a mid-life crisis, those that are trying to fit into a former generation, and those that have missed out on opportunities. "Greenberg" is a story that's been told various times, to an unhealthy extent, and though it's always interesting to watch the pitfalls of any sordid individual, Greenberg is not a strong enough character to hold an entire film. Most of Baumbach's films have had an ensemble cast with remarkable characters, but here most of them are pointless add-ons. His former friends barely have any lines, his brother's family is onscreen for mere minutes, and even Florence (Gerwig) is predictable. Roger Greenberg is supposed to be a bit eccentric, definitely guarded and anti-social, but these flaws do not make the character interesting. He's a bit misanthropic but not to an extent that makes him completely sealed off from the outside world, and he's not strange enough to make for an interesting character study. The party scene is really the only window into his psyche, but besides that there's very little to satisfy the viewer. Even Greta Gerwig, Baumbach's recent muse and girlfriend, doesn't have a character with any extinguishing characteristics, except that she likes Greenberg, and that she isn't living the life that her college education allows. There are certainly great themes to the film but this just isn't the story of a thoughtless pariah that one expects.
Spencer S.
Super Reviewer
Florence Marr: Hurt people hurt people. "He's got a lot on his mind." Greenberg is a movie made in a style that a really enjoy. No real beginning, no real end, but only how life really goes. It's truly what we could call a "real life" movie. Now I can understand why many wouldn't have appreciation for a film like Greenberg. It doesn't care about creating laughs or tears, but only in presenting an unlikable character in Roger Greenberg. There's a lot of themes rolling out of this character, so if you like character driven movies, you should be able to like this one. Roger comes back to LA from New York and is staying at his rich brothers place while he is on vacation with his family in Vietnam. His brother has a young personal assistant named Florence who was told that she may need to help Roger with some things and that he's just getting out of a mental hospital and is a little unstable. Roger and Florence begin seeing each other in an awkward and weird sort of way, while Roger struggles with some of his past disappointments and relationships. The movie is slow and not strong on "entertainment." If you've seen any of Noah Baumbach's movies, you'll recognize it as his right of the bat. He uses characters that are sort of pretentious assholes that believe they know it all. Greenberg is a less pretentious(if only maybe because he isn't as smart) version of the father in Baumbach's masterpiece The Squid and The Whale. Greenberg doesn't quite reach the perfection of that movie, but it is still a really well made, interesting, and at least to me, great movie. You gotta love Ben Stiller in another serious role after doing more silly shit than serious shit over the years. Also I really like Greta Gerwig who has her own demeanor on screen that comes across as very real. Rhys Ifans is just the cherry on top as far as the cast goes. As far story, there's not much needed and I appreciate movies that don't need that much story driven material. This one just let's the title character take over the movie and it works very well.
Melvin White
Super Reviewer
Greenberg Quotes
| | |
| --- | --- |
| Florence Marr: | Hurt people hurt people |
| Florence Marr: | Hurt people hurt people. |
| | |
| --- | --- |
| Roger Greenberg: | You're of value. |
| Roger Greenberg: | You're of value. |
| Florence Marr: | I know that. You don't have to say that. |
| Florence Marr: | I know that. You don't have to say that. |
| | |
| --- | --- |
| Roger Greenberg: | Life is wasted on people. |
| | |
| --- | --- |
| Florence Marr: | I have got to stop doing things just cuz they feel good |
| Florence Marr: | I've gotta stop doing things just because they feel good. |
Discussion Forum
Discuss Greenberg on our Movie forum!